The beautiful community of Colorado Springs is an incredible thing to be part of. We are surrounded by hard-working men and women who dedicate their lives to protecting, helping and serving others. There are many types of heroes who spend their time improving the lives of others through difficult positions including the military, firefighters/EMS, law enforcement, healthcare professionals, and teachers. Whether our brave neighbors wear uniforms or scrubs, lanyards, or badges, we are grateful for their service.
Here at The Reichert Mortgage Team, we love taking any opportunity we can to shine a spotlight on those who serve. We are thrilled to have the platform to celebrate incredible members of our community through this series: Heroes in the Community, where we will take an opportunity to honor the heroes in our local Falcon and Colorado Springs area. We hope to share local events, holidays, fundraising opportunities, charitable organizations, honorary people, and so much more with you, so keep in tune for what is to come!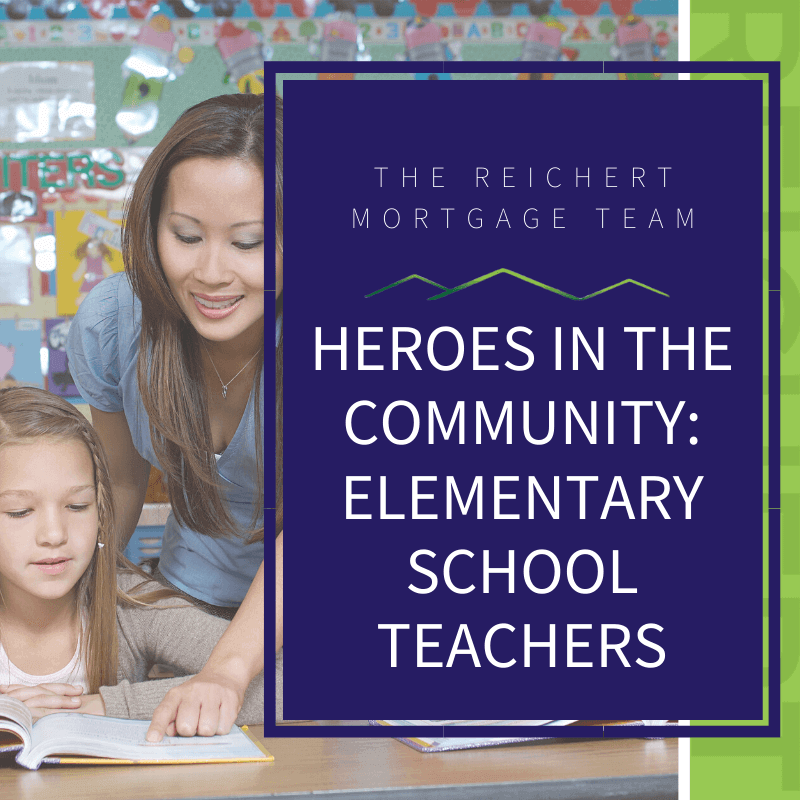 Celebrating Our Teachers
As the heat of August beats upon us, the kids throughout Eastern Colorado Springs, Falcon, Black Forest, and Peyton are all heading back to school. We are proud to shine this month's spotlight on heroes that protect and shape the minds of our community's children: teachers. We are incredibly grateful to all of the teachers that dedicate their time and efforts to teaching, mentoring, and supporting the youth of El Paso county to shape the minds that will one day shape our future.
At The Reichert Mortgage Team, we would like to sincerely thank the remarkable teachers throughout El Paso County which includes over 200 schools. We are very appreciative of the time teachers put into caring for all of the students in the classroom, during extracurricular activities, and at home working through their assignments and creating lessons. Teachers have incredible hearts and are passionate about learning, which is something Reichert values and truly appreciates.
Pikes Peak Heroes for Teachers
As a veteran, there is nothing I love more than serving my community, and I am honored to be surrounded by incredible heroes such as teachers that spend each day serving others by shaping the minds and work ethics of students everywhere. One of the ways I am proud to serve the areas of Colorado Springs and Falcon is through the Pikes Peak Heroes program. We are the proud founder of Pikes Peak Heroes, and we want to ensure that all of the incredible teachers ranging from Security Feild to Monument and every neighborhood in-between are educated about the mortgage benefits they can receive. We want to take this opportunity to thank teachers for educating the young minds in our beautiful community by providing excellent home buying options.
How To Celebrate Our Teachers
Colorado Springs teachers directly give back to our community every day. Fortunately, there are many ways that we can show our gratitude and help create a better environment for our students. Here are just a few different ways to get involved and give back to our teachers as well as their students in Southern Colorado.
5 Creative Ways to Help Local Teachers
Donate extra supplies
Offer after-school tutoring
Volunteer
Attend local school board meetings
Support public libraries
Lastly, you can always ask the teachers what they specifically need to serve their students. Most teachers will have a list of things that they plan on buying or dream of buying to assist in learning for their students.
Charities and Non-Profits
Donors Choose A Fundraising platform for educators who need help funding their classrooms. You can filter the search results to find Colorado school classrooms that need donations for supplies, field trips, and general needs.
Adopt A Classroom: This online fundraising platform was created out of the need to provide every student with equal opportunity to succeed in class with the supplies they need. Often, families who cannot afford school supplies are left to hope that teachers can pay out of pocket to provide for the students. Adopt A Classroom helps close that gap.
Annual Teacher Holidays
World Teacher Day: October 5th, 2019
National Teacher day: May 5th, 2020
National Teacher Appreciation Week: May 4th – May 9th, 2020
How We Celebrate Our Communities Teachers
The Reichert Mortgage Team is proud of the Pikes Peak Heroes program. Pikes Peak Heroes provides financial assistance to heroes such as teachers, firefighters/EMS, law enforcement, medical professionals, and the military. Not only can heroes save a significant amount of money through this program, but Reichert Mortgage is proud to say "Thank You" by offering to pay appraisal fees for our heroes. We are honored to assist our heroes such as teachers in any way we can.
Pikes Peak Heroes Mortgage Broker | The Reichert Mortgage Team
At The Reichert Mortgage Team, we place a high value on education and community. Based on this we are honored to thank our teachers for their sacrifice and dedication to the future of our community. We would like to extend our gratitude and appreciation by offering assistance not only through our amazing mortgage brokers but also through the Pikes Peak Heroes program to alleviate some of the financial burdens when purchasing a home. If you have questions about the Pikes Heroes program or about how you can help support El Paso County community heroes such as our dedicated teachers, then contact us today! Additionally, if you know of a teacher that could benefit from this program we ask that you share this with them so that they can get the assistance they need.
"Thank You" to our El Paso County School Districts!
Other Heros In The Colorado Springs Community