Throughout this incredible community, we call home, we are fortunate to have hard-working men and women who dedicate their lives to protecting, helping, and serving others. There are many types of heroes who spend their time improving the lives of others through difficult positions, including military, firefighters/EMS, healthcare professionals, law enforcement, and teachers. Whether they wear uniforms or scrubs, lanyards, or badges, we are grateful for their service.
Here at The Reichert Mortgage Team, we love taking any opportunity we can to shine a spotlight on those who serve. We are thrilled to announce our new series: Heroes in the Community, where we will take an opportunity to honor the heroes in our local Falcon and Colorado Springs area. We hope to share local events, holidays, fundraising opportunities, charitable organizations, honorary people, and so much more with you, so keep in tune for what is to come!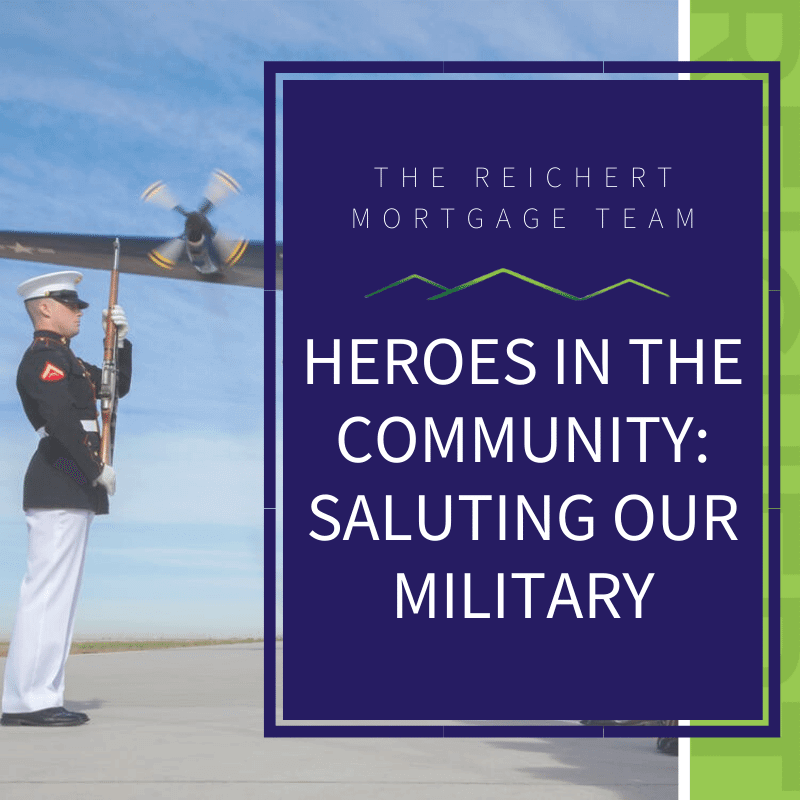 Saluting Our Military
Living in Colorado Springs, we are incredibly grateful for the military personnel living in this city including all branches of the military: The Army, Air Force, Navy, Marine Corps, and Coast Guard. Because of the military, we as American citizens and Colorado Springs residents, are able to live with many blessings, such as peace in conducting our lives under their dutiful protection.
At the Reichert Mortgage Team in Colorado Springs, we would like to sincerely extend our gratitude to every status of the military: active duty, reserves, and veterans. Our team wants to thank these professionals for their care and respect for Colorado Springs and America as a whole. As we continue to welcome new residents to Southern Colorado, we are proud to know they are in great hands.
Pikes Peak Heroes for Military
As a veteran myself, there is nothing I love more than serving my community. I believe it is the strong desire to serve that unites all military. Therefore, I am honored to be surrounded by incredible heroes that serve my community each day. One of the ways I am proud to serve the community of Colorado Springs and Falcon is through the Pikes Peak Heroes program. With our program, Pikes Peak Heroes, we want to ensure that all of the incredible military personnel in El Paso County are educated about the mortgage benefits they can receive. Our team is incredibly grateful for our military, and we want to take this moment to give back to those who sacrifice their own safety for ours. Beyond educating our military personal we also strive to serve them by providing an assortment of military mortgage benefits such as the benefits of a VA home loan, VA home loans, VA loan education, and even VA home loan refinancing.
How to Give Back to Our Military for Veterans
Many of the privileges we have today are because of the military's many sacrifices. Thankfully there are many ways we as Colorado Springs residents can give back and thank them for their service. We believe that it is important to give thanks by any means possible. Here are a few ways to give back, both big and small.
Donating to the Military
There are multiple non-profit organizations and charities that welcome donations for a variety of different branches of the military.

Disabled American Veterans was created almost 100 years ago by Congress. Today they still openly welcome donations to support disabled veterans who no longer have the means to support their livelihood.

Wounded Warrior Project is a non-profit that welcomes donations to veterans who have been severely injured serving overseas.

Homes for Our Troops is a public non-profit whose donations go toward helping rebuild homes for veterans post 9/11.

The USO located here in Colorado Springs will accept donations that go directly toward care packages, free phone cards, entertainment tours, and even necessities to those serving overseas today.
Vehicles For Veterans is a public non-profit organization that accepts donations in the form of cars, boats, RV's, motorcycles, or other vehicles. These vehicles are then auctioned off or recycled and the proceeds are sent to a number of veteran organizations.
Volunteer On Behalf of Veterans
Beyond donating to charities you can always volunteer your time to a charity or organization that directly benefits or assists veterans.

Volunteers of America Colorado is a non and faith-based organization dedicated to connecting volunteers and veterans in need. Volunteers can expect to do a variety of tasks such as delivering meals to veterans, providing childcare, and much more.
DAV is a non-profit organization that provides support for veterans and their families through transportation to and from doctors appointments as as connecting them to health care plans, unemployment assistance, education and financial benefits.
EverGreen Project is a non profit organization dedicated to making our earth greener. They are in search of volunteers to assist disabled veterans in shoveling accumulated snow on their driveways and sidewalks.
Sending Cards and Care Packages to Deployed Military
Another way to give thanks to the military is by sending cards, which creatively encourages many active-duty members across the globe.
Operation Write Home is a non-profit organization that supports troops by sending them greetings and thank you cards.
Hero box is a non-profit organization that allows American citizens to send unique care packages to sponsored troops living overseas.
Annual Holidays
Even things a simple "thank you" can mean the world to active, reserve, or veteran military members. Take note of the following holidays to make your gratitude known when it counts most.
March 25, 2020 Medal of Honor Day
March 29, 2020 – Vietnam Veterans Day
May 25, 2020 – Memorial Day
June 27, 2020 – National PTSD Awareness Day
July 4, 2020 – Independence Day
Sept. 11, 2020 – Patriot Day
Nov. 11, 2020 – Veterans Day
Pikes Peak Heroes Mortgage Broker | The Reichert Mortgage Team
The Reichert Mortgage Team is proud of its program Pikes Peak Heroes that provides financial assistance to heroes such as teachers, firefighters/EMS, law enforcement, medical professionals, and military. Not only can heroes save a significant amount of money through this program, but Reichert Mortgage is proud to say "Thank You" by offering to pay appraisal fees for our heroes. In addition to this offer heroes in our community can expect to receive specialized military mortgage benefits and assistance. Our team of detected mortgage brokers are skilled in navigating multiple lenders in search of the ideal mortgage solution for you. We are honored to assist our heroes such as the military in any way we can. If you have questions about the Pikes Peak Heroes program or about how you can help support El Paso County community heroes such as our dedicated military, then contact us today!
A Big Thank You to Our Military Bases in Colorado Springs!
Cheyenne Mountain Air Force Base
Pueblo Chemical Depot Army Base
Other Heros In The Colorado Springs Community