Throughout this incredible community, we call home, we are fortunate to have hard-working men and women who dedicate their lives to protecting, helping, and serving others. There are many types of heroes who spend their time improving the lives of others through difficult positions, including military, firefighters/EMS, healthcare professionals, law enforcement, and teachers. Whether they wear uniforms or scrubs, lanyards, or badges, we are grateful for their service.
Here at The Reichert Mortgage Team, we love taking any opportunity we can to shine a spotlight on those who serve. We are thrilled to dive deeper into the medical profession in our Heroes in the Community series, by thanking them for their service in our local Falcon and Colorado Springs area. We hope to share local events, holidays, fundraising opportunities, charitable organizations, honorary people, and so much more with you, so keep in tune for what is to come!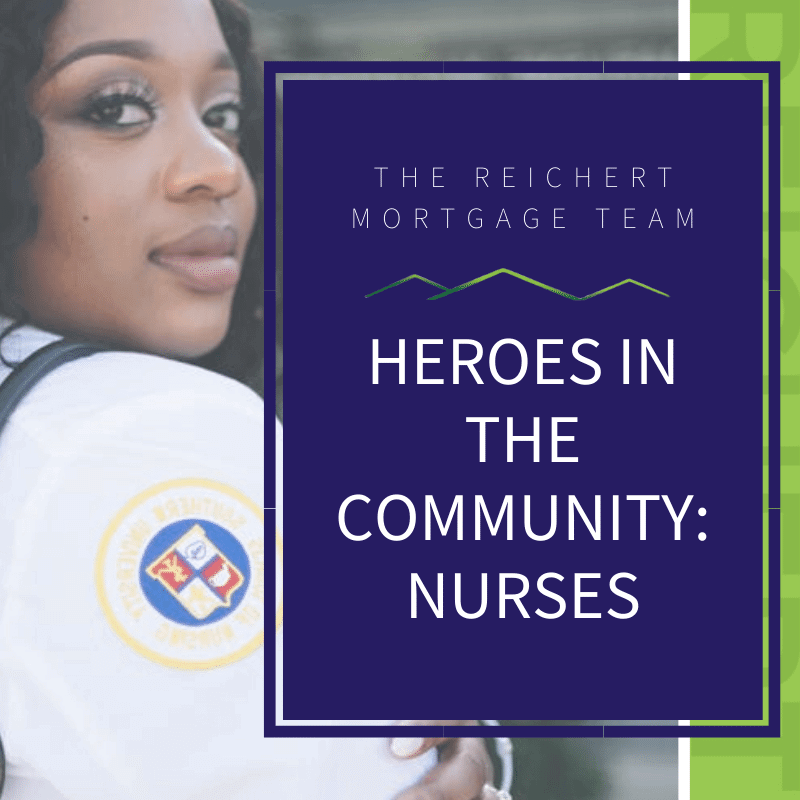 Pikes Peak Heroes for Nurses
Nurses are the heartbeat of the medical community. They work diligently to ensure that patients coming into our hospitals are taken care of. From administering medications to counseling patients and teaching them about treatment plans – nurses work to keep our community alive. Nurses are compassionate people with a heart for public service. Their expertise in medical knowledge makes them invaluable to us all. We are deeply appreciative of the many sacrifices they make for our community in Colorado Springs.

We would like to extend our warmest gratitude to these health care professionals, who serve El Paso County. Our team wants to thank the thousands of registered and licensed nurses for keeping our community strong and healthy. As we continue to welcome new residents to Colorado Springs, we are proud to know they are in capable hands.

Pikes Peak Heroes® for Healthcare Professionals
As a member of this incredible community, I am proud to say I have experienced the compassionate care of nurses throughout Colorado Springs. As someone who has served as a veteran, I am passionate about serving others and I recognize those who do the same. One of the ways I am proud to serve the community of Colorado Springs and Falcon is through the Pikes Peak Heroes program. We want to ensure every nurse throughout Colorado Springs, Falcon, Security, Monument, and surrounding communities know the benefits of this program. Pikes Peak Heroes was designed for community heroes –like our hard-working nurses– to be able to finance their homes.
How to Show Gratitude for Nurses
Nurses tirelessly give their best to our hospitals and nursing facilities, which are faced with countless difficulties of caring for patients from all walks of life. We believe expressing gratitude to these caring individuals, in both big and small ways, is very important. Here are a few ways to give back, show thanks, and express your gratitude.

5 Ways To Thank Your Licensed or Registered Nurse
Nursing is a field that is susceptible to burnout. They work long hours and have many demands placed on them between administrative duties and patient health. Naturally, thanking them for their hard work will be much appreciated. Try to think of a nurse in your life: whether they are a nurse watching over you right now, a nurse that has helped you in the past, or a relative that is a nurse today. Once you've thought of the nurse that has impacted your life, take a moment to review the ways you can thank them today
Tell them how much you appreciate them
Whether as a sibling, co-workers, or someone who has treated you in the past, telling them how much you appreciate their care is sure to impact their day for the better. Write a letter
Sometimes we cannot quite put our gratitude into words until we think back on how much a nurse has impacted our life during those tough times. Writing a letter note is a sure way to make a lasting impression and impact their practice in the future.
Provide sweets to nurses on their breaks
Everyone likes sweets. Giving chocolate — or better yet — making your own sweets and giving it to a nurse will make their day just a little bit sweeter. A little sugar rush can give them the boost to finish their shift strong.
Recommend their services to boost their practice
If you know someone who is currently needing professional medical services, recommending a nurse by their name and organization will send a strong message on how they have impacted you. When your friend come to see the nurse you've described, they will be delighted to know you remembered them.
Gift Certificates
Gift cards or certificates is a very special way to say thank you. It says that you see their hard work and want them to treat themselves to something nice. Our recommendation is to give them enough credit for a massage therapy session, as being on your feet all day, bending over, and running around the hospital is hard work on your body.
Charities and Nonprofits
There are dozens of charities and non-profits throughout southern Colorado that promote excellent nursing practices, education, and advocacy. If you're looking for an organization that supports nurses both in our community and across the face of America, then browse this list!
American Nursing Foundation: This nonprofit's mission statement is to "transform the nation's health through the power of nursing". They are an organization that strives to improve the image of nursing on a national level. Support this nonprofit by becoming a donor today!
Colorado Nursing Foundation: CNF aims to improve healthcare and nursing practices through education, advocacy, and recognition. They have raised over $329,000 in nursing scholarships which are awarded every January to Colorado residents who are ambitious about nursing.
Nurse-Family Partnership:  NFP is an organization that works directly with new mothers facing financial difficulty across the U.S. Their mission is to empower mothers and their children through evidence-based nurse home visits. You can help them by donating today!
Annual Holidays:
Of all days of the year, perhaps the best way to deliver sweets, provide a gift, or express your gratitude to nurses is on National Nurses Day. Write this day on your calendar so you don't forget it!

National Nurses Day: May 6th, 2020
Pikes Peak Heroes Mortgage Broker | The Riechert Mortgage Team
The Reichert Mortgage Team is proud to be an official partner of the Pikes Peak Heroes program. Pikes Peak Heroes provides financial assistance to heroes such as teachers, firefighters/EMS, law enforcement, medical professionals, and the military. Not only can heroes save a significant amount of money through this program, but Reichert Mortgage is proud to say "Thank You" by offering to pay appraisal fees for our heroes. We are honored to assist our heroes such as teachers in any way we can. If you have questions about the Pikes Peak Heroes program or about how you can help support El Paso community heroes like our dedicated healthcare professionals, then contact us today! 
"Thank You" to our El Paso County Nursing Facilities!
Nurses work in a variety of medical scenarios in our community in Colorado Springs: for example, nursing facilities, doctor's offices, and hospitals. Nurses are the heartbeat of our community, helping others through holistic care. If you have a nurse in your life, don't forget all the ways you can say "thank you" to them wherever they may be working today!