Throughout this incredible community we call home, we are fortunate to have hard working men and women who dedicate their lives to protecting, helping, and serving others. There are many types of heroes who spend their time improving the lives of others through difficult positions, including military, firefighters/EMS, healthcare professionals, law enforcement, and teachers. Whether they wear uniforms or scrubs, lanyards or badges, we are grateful for their service.
Here at The Reichert Mortgage Team, we love taking any opportunity we can to shine a spotlight for those who serve. We are thrilled to announce our new series: Heroes in the Community, where we will take an opportunity to honor the heroes in our local Falcon and Colorado Springs area. We hope to share local events, holidays, fundraising opportunities, charitable organizations, honorary people, and so much more with you, so keep in tune for what is to come!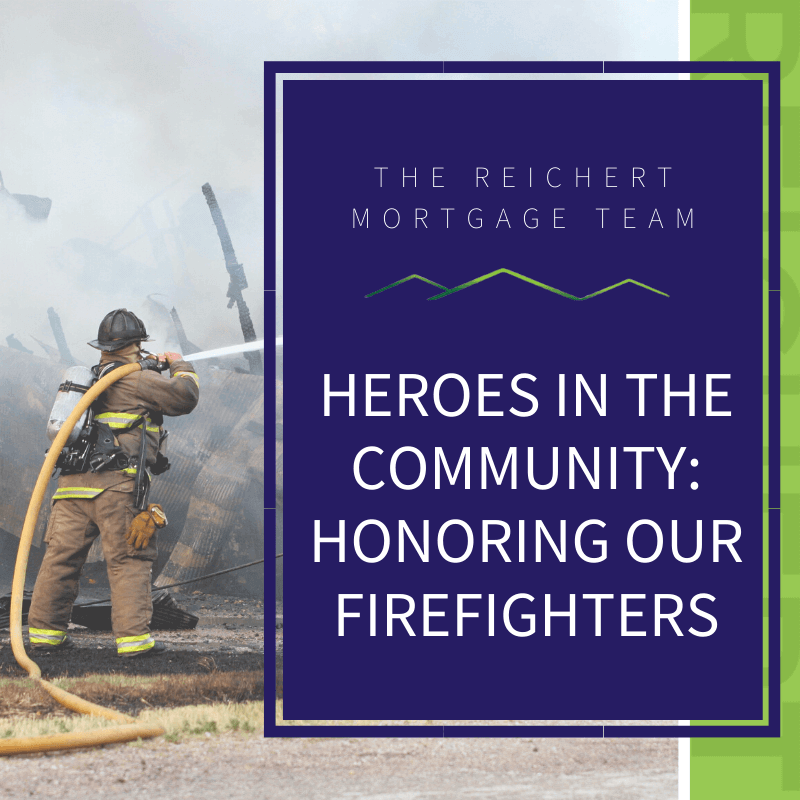 Honoring Our Firefighters
For the launch of the series, we are proud to spotlight the incredibly brave Firefighters throughout Eastern Colorado Springs, Falcon, Black Forest, and Peyton that protect our community each day. To the Fire departments, the career firefighters, the reserve (volunteer) firefighters, and the EMS professionals who all work together to care for the health and safety of our community, we are grateful to you!
At The Reichert Mortgage Team, we would like to sincerely thank the incredible Fire Departments that surround us including Falcon Fire Department which incorporates 113-square-miles of unincorporated El Paso County, Black Forest Fire Rescue Protection District, and the Colorado Springs Fire Department.
Pikes Peak Heroes for Firefighters
As a veteran, there is nothing I love more than serving my community, and I am honored to be surrounded by incredible heroes such as firefighters that serve my neighbors each day through safety and bravery. One of the ways I am proud to serve the community of Colorado Springs and Falcon is through the Pikes Peak Heroes program. We want to ensure that all of the incredible firefighters in El Paso County are educated about the mortgage benefits they can receive. Our team is incredibly grateful for our first responders, and we want to take this moment to give back to those who lay their lives down for others every day.
How to Give Back to Our Firefighters
Our firefighters give to our community every day. Fortunately, there are many ways that we can show our gratitude. Below is a snapshot of different ways to get involved and give back to our firefighters throughout El Paso County.
Upcoming Events
Papi's 2nd Annual Piano Marathon
Date: July 27 – July 28, 2019. 7:00 pm – 7:00 pm
Location: The Chicken Coop, 11627 Black Forest Road, Black Forest, Colorado, 80908
Details: 24 Hours of continuous piano playing and events to raise money for firefighter cancer research!
Colorado Springs Firefighter's Foundation Golf Tournament
Date: August 12, 2019, 7:30 am – 3:00 pm
Location: Club at Flying Horse, 1880 Weiskopf Point, Colorado Springs, Colorado 80921
Details: The Colorado Springs Firefighter's Foundation is hosting a golf tournament to support the families of fallen Professional Firefighters and provide aid where it is needed most.
Pikes Peak Harley-Davidson Fundraiser
Date: August 31, 2019, 11:00 am – 3:00 pm
Location: 5867 N. Nevada Ave., Colorado Springs, Colorado 80918
Details: Support the Fire Foundation of Colorado Springs while enjoying BBQ at Pikes Peak Harley Davidson on North Nevada at a parking lot party!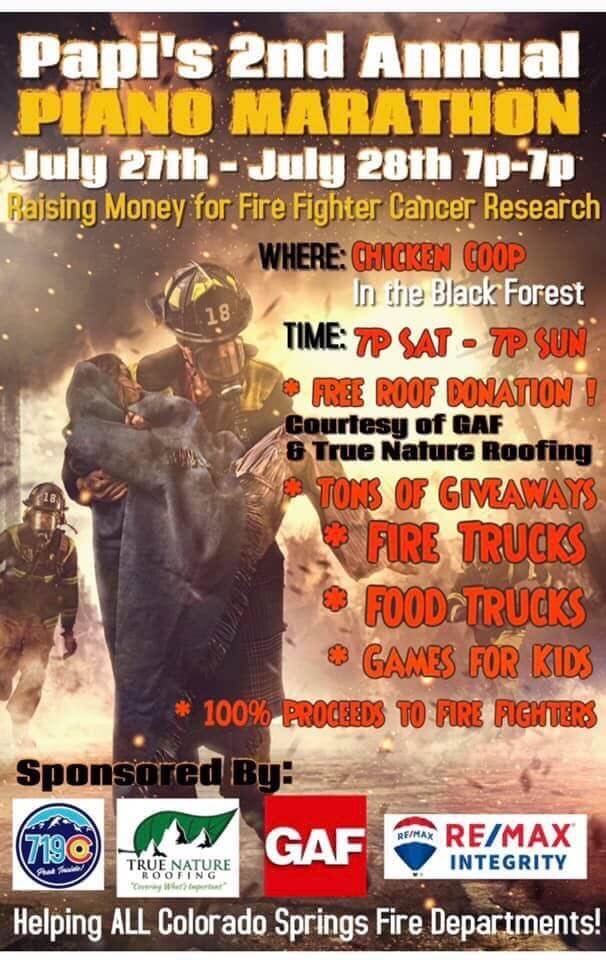 Charities and Non-Profits
Colorado Springs Firefighter's Foundation: This foundation is run by firefighters and aims to serve fellow firefighters of Colorado Springs with various resources. Connect with the organization online or join the fundraising for firefighter cancer efforts during the Piano Marathon!
Fire Foundation of Colorado Springs: This foundation supports the fire departments across Colorado Springs by providing resources to supplement the supplies provided by the city. Get involved through various events such as the upcoming BBQ Fundraiser or donate directly.
Pikes Peak Firefighters Association: This non-profit association is driven by members and has served emergency responders in the Pikes Peak Region for over 50 years. You can get involved through donations via their website or keep an eye for upcoming events.
Annual Firefighter Holidays
International Firefighter's Day: May 4th
Fire Protection Week: October 6th
National EMS Week: May 17th
Pikes Peak Heroes Mortgage Broker | The Reichert Mortgage Team
The Reichert Mortgage Team is proud to be the official founder of the Pikes Peak Heroes program. Pikes Peak Heroes provides financial assistance to heroes such as firefighters/EMS, teachers, law enforcement, medical professionals, and military. Not only can heroes save a significant amount of money through this program, but The Reichert Mortgage Team is proud to say "Thank You" by offering to pay appraisal fees for our heroes. We are honored to assist our heroes in any way we can. If you have questions about the Pikes Peak Heroes program or about how you can help support El Paso community heroes like our firefighters , then contact us today!
"Thank You" to our El Paso County Fire Departments!