For many new homebuyers, taking out a mortgage and making payments on a home can be a big decision. There are certainly a lot of things to consider when deciding to buy a home: there's your annual income, credit score, and the ever-changing factor of the housing market. As a mortgage broker in Colorado Springs, we've compiled the data for you focusing primarily on the last variable — the housing market — and we will give you the latest data on whether it is better to buy or rent given the latest trends in the Pikes Peak Region.
As a mortgage broker in Colorado Springs, we want to ensure that homeowners and home buyers are making educated decisions concerning their next big investment. Every month we closely follow the latest trends in the housing market including average rent, average mortgage payment, average housing costs as well as the average mortgage rates. The data that we've compiled for 2020 has some particularly good news for homebuyers. We've already seen house prices start to wane compared to previous years in addition to mortgage rates dropping to a new low. This is big news for homebuyers, meaning this could be the year for you to buy the home of your dreams!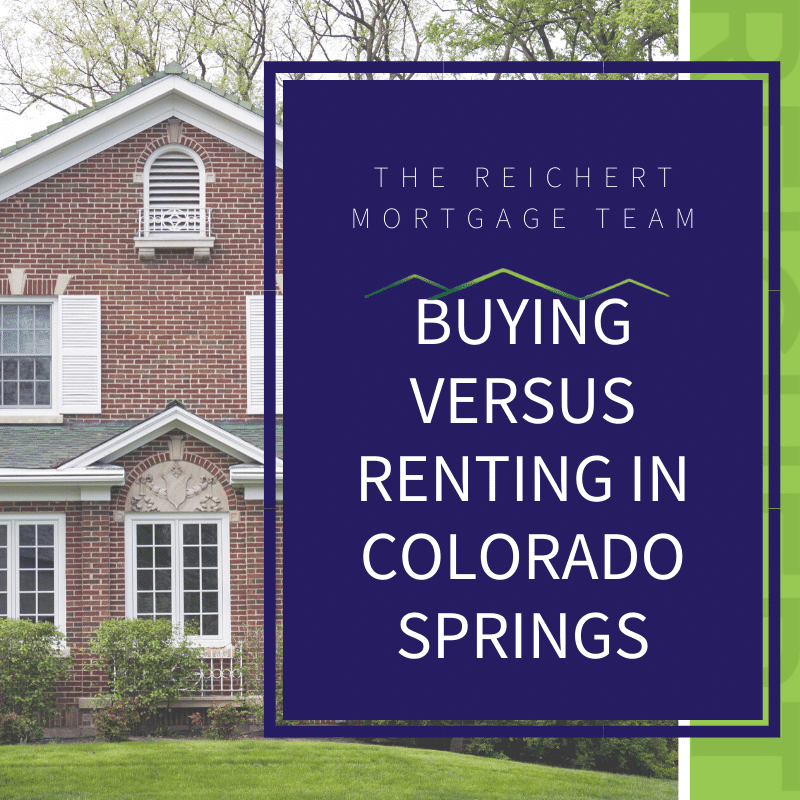 Colorado Springs Rising Home Prices Start to Wane in 2020
Colorado Springs has in recent years become one of the top ten cities to live in the U.S., sitting comfortably at number 3 according to U.S. News & World Report. With the large influx of people moving away from bigger cities such as Denver and L.A. our community has naturally experienced a slow rise in house prices.
However, in coming years we will see this trend start to wane. From our research, house prices will only rise 2.8% compared to previous years of 3.6% and 5% in 2019 and 2018 respectively according to the Economic & Housing Research Group.
Mortgage rates are also at their lowest in recent years: 2.77% and 2.31% mortgage rate for 30-year-fixed mortgages and 15-year-fixed mortgages respectively as of the end of November 2020. Lower rates mean there is huge potential to save money over the life of the loan, which is good for home-buyers today. Buy having a lower rate the homebuyer would end up paying less in total interest on the home 30 or 15 years down the road.
Moreover, Colorado Springs still sits slightly below the national average in terms of median home prices.
Covid-19's Affect On Mortgage Rates
The covid-19 pandemic affected many things in our lives including the housing market. Due to the virus, the Federal reserve made numerous emergency rate cuts causing the following. After these rate cuts in April 2020, the Fed began purchasing millions of dollars in mortgage-backed securities which effectively injected money into the mortgage industry. This created a drop in mortgage rates that has lasted the majority of the year. this drop generated a nearly 1.0% loss from the beginning of the year. Although when considering buying a home the rate is not the only factor to consider.
Although homebuyers are more motivated to buy given the reduced mortgage rates current homeowners are also motivated to refinance and remain in their homes. This generates a shortage of homes on the market and a largely competitive home buyers market. Considering the lower interest rate it is an ideal time to buy a home if you can afford it and if you can find a home. However, the best way to secure a home in a competitive market like this one is to be on top of your game. Have a preapproval letter early and let your seller and real estate agent know that you are serious.
Colorado Springs Average Cost to Rent Continues to Rise
In proportion to the rising house prices in Colorado Springs, we see the same trend over a 10 year span in the renting market. The average monthly payment for a one bedroom was just over $500 in 2011. Today it has doubled to a little over $1000 per month. The trend continues. Colorado Springs has been ranked number 2 in terms of cities experiencing skyrocketing rent prices over the past five years.
In addition, more jobs will begin to be sourced to Colorado Springs, including Amazon and Space Force, which will create thousands of jobs for new Colorado residents and military personnel. Inevitably, rent prices will continue to soar to meet the demand of our El Paso County's increasing population
Cost Difference Between Renting and Buying in Colorado Springs 2020
What we see in our local community in 2020 is that both prices are going to continue to rise, especially as more and more people move to Colorado to match the urban development. What will be an important factor this year for home buyers is the mortgage rate, which is currently a little over 3%. Now may be the time to act while these mortgage rates are so low.
In addition, there are always benefits to buying a home in the long-term including building equity, increasing home value, improving credit, etc,. Plus, the ultimate hope of buying a home is that one day monthly housing payments will be a thing of the past altogether.
The advantages of renting are almost always short-term, however. Over the course of three years of paying an average of $1000 a month for a one bedroom in Colorado Springs, you will not be gaining any of the long term benefits of buying a home. However, you will have the convenience of being able to save more money for a future investment in the housing market.
Some important things to keep in mind is that buying a home requires a significant down payment. If you can't pay at least 10% of the home's value as down payment, then investing in a home may not be worth it for you. Fortunately, we offer a variety of calculators to aid you in your home buying process, including our down payment calculator, and financial eligibility calculator, in addition to our Home for Heroes program, which offers special deals to our military, health care professionals, first responders, and teachers.
Using the Rent Vs. Buy Calculator
For first time homebuyers, it is a big jump to go from renting a house or apartment to buying your first home. This decision involves many moving parts including your down payment, the area you decide to live, the term of the mortgage and more. That's why we've developed our rent vs. buy calculator to make it easier for homebuyers like you. Here are a list of factors that govern your decision to buy or rent:
The area you want to live (is it an expensive area or not?)
The price of the house you want
Your down payment
The term of your mortgage
How long you plan to live there
Our calculators are free to use and will ultimately benefit any homebuyer through their home-buying journey. Note that the results are simply just estimations and were created to aid homebuyers onto the next step. Check out a few more of our calculators to tackle other mortgage questions.
Take Control: Start Investing in Your Home Today | Reichert Mortgage Team
When it comes to buying or renting a home, there are never any one-size-fits-all solutions. Buying a home is a major life decision. However, you don't have to do it alone. Here at The Reichert Mortgage Team, we will work alongside you to find what loan makes the most sense for you. If you have any questions about renting versus buying in Colorado Springs' housing market, feel free to contact us today! We would be happy to assist you!
Reichert Mortgage Team is here for you through all aspects of the home-buying process, from finding you an affordable mortgage rate, to providing many affordable programs for our heroes in the community, to ensuring you are educated about your financial decisions.