If you are in the market to buy your first home, it can be equally exciting and overwhelming. The process of applying for, and securing, a mortgage can be daunting, especially for first time home buyers in Colorado Springs. As a local mortgage broker, it is our mission to make the home loan process an enjoyable, education, and easy experience. One of the ways that we accomplish this goal is by providing first time home buyers with many resources and options to make the process of getting into your first home much easier than you may think. As a first time home buyer in Colorado, you have access to lower down payment options, lower interest rates on some loan types, and to select down payment assistance programs.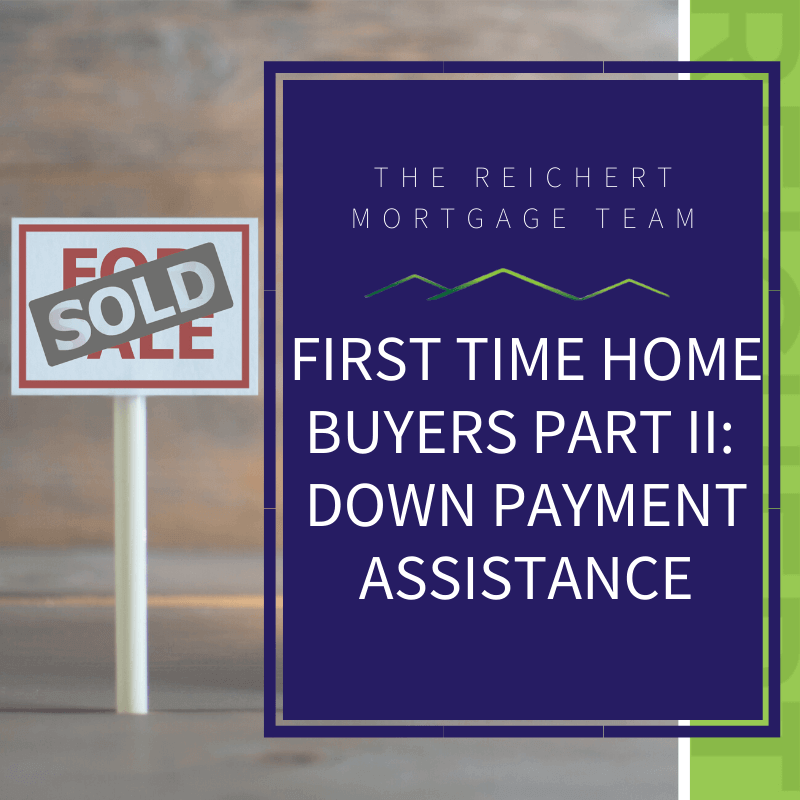 At Reichert Mortgage Team, there is nothing we love more than serving our community in El Paso County. We have worked with many first time home buyers and want to ensure that this is a positive experience, so we want to provide education in this series: First Time Home Buyers. Take a moment to read Part I: What To Avoid if you missed it! There is an array of options available for first time home buyers, and it's important to understand each option you may qualify for in order to make the best decision for your investment.
Lower Down Payment Options
Ultimately, the amount of the down payment needed to purchase a home depends on the type of loan you secure ( I.e. FHA Home Loans, Conventional Loans, VA Loans, and many others.) Low and zero down payment options are popular options for first time home buyers with little savings available. There are federal, local, private, and other assistance programs available for new home owners to provide financial and educational assistance with down payments and closing costs. Typically, these programs are geared toward low-to-moderate income households, but each program has a mission to help.
Lower Interest Rates
Lenders understand that creditworthy first time home buyers may just need a bit of consistent financial assistance. First time home buyers may secure lower interest rates. Possible interest rate reductions can occur for those who quality, including the possibility of a lower monthly mortgage insurance payment. Lower interest rate options exist to provide first time home buyers with additional buying power.
Down Payment Assistance Programs
In Colorado, there are various down payment assistance programs available for first time home buyers. Many programs understand that new home buyers need a bit of help to succeed with such an important investment. Below are a few programs that may be available to you.
Understand Your Options | The Reichert Mortgage Team
Purchasing a new home is a serious investment, and we are here to help you understand all of the options available to you. 79% of first time home buyers have relied on first time home buying payment assistant programs, making this an incredible resource available to lessen the overall cost of purchasing your first home. These programs exist to help first time home buyers secure their investment and keep the market flowing.
At Reichert Mortgage Team, we want to provide our neighbors in Peyton, Black Forest, Colorado Springs, Monument, Garden of the Gods, and the surrounding communities with mortgage education tools. Contact us to learn more about the programs that may be available to you! We will take the time to thoroughly understand your situation and goals in order to help you buy the best home for your needs.