Are you project-oriented? Do fixer-uppers have a certain appeal to you? Is your home in need of some repairs? If you answered yes to any of the above, the VA Renovation Loans may be a perfect fit for you.
Given the VA Renovation Loans and the Traditional VA Loans have a lot of the same benefits, you may be wondering what the difference is between the two. The only real contrast is the fact that VA Renovation loans are met for alterations and repairs of a property, while a Traditional VA Loan is simply for the purchase or refinance of the property.
The Reichert Mortgage Team is a Colorado Springs based organization that is proud to assist El Paso County's residents with all things relating to VA Loans. With years of experience, we are well-versed in VA Renovation Loans and would be happy to help you navigate the ins-and-outs of the process.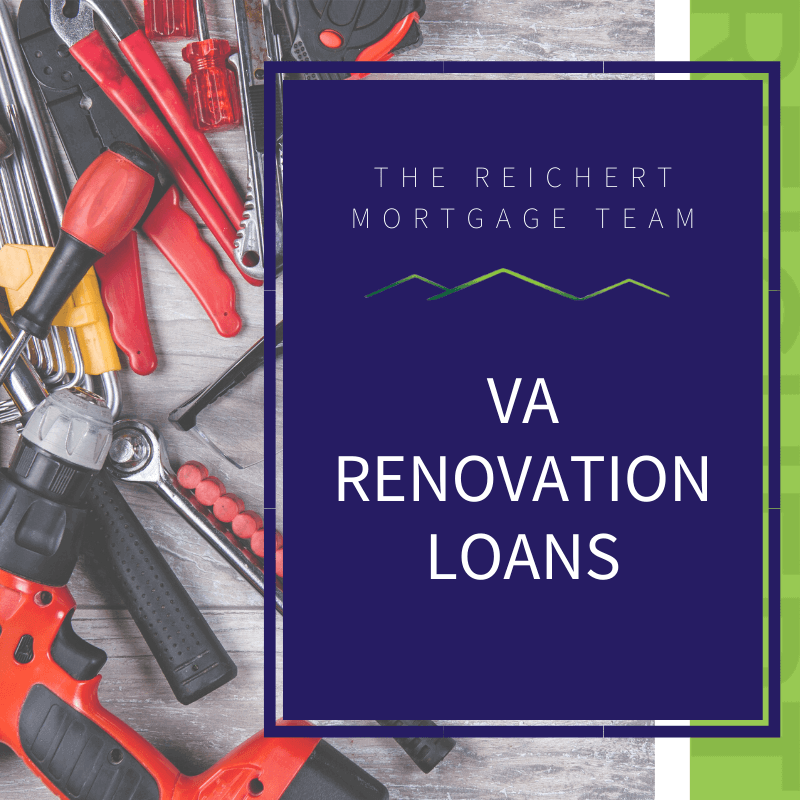 VA Renovation Loans
The purpose of the VA Renovation Loans is to assist veterans and service members by providing a single VA loan to purchase and repair a property.
Purchasing a fixer-upper
Buying a home that has issues that surfaced during the home inspection
If the funds are used to repair a property, you can refinance an existing mortgage with a VA Renovation Loan
VA Renovation Loan Guidelines
To receive a VA Renovation Loan, you must meet some requirements. Many of these are similar to requirements typically needed for a VA loan service. Your project must also be able to check some boxes. 
Must be a qualifying veteran, and active duty member of the U.S. Military, or a surviving military spouse
FICO score of at least 620
Once repairs are complete, this property has to be your primary residence
The repairs completed have improved the safety and livability of the residence
The construction you want to complete must be done within four months of closing
Contractor Requirements
Along with the personal requirements, the VA Renovation Loan also has specifications in regard to who you hire to complete the job.
Only a General Contractor registered with the VA may complete the job
The General Contractor must carry sufficient insurance through a current general insurance liability policy
Acceptable Renovation Projects
Not all renovations will qualify for the VA Renovation Loan. Even so, VA Renovation loans cover a lot of great repairs. Some examples of acceptable projects include:
Fix or install new HVAC systems or water heaters
Treating mold or lead paint
Making updates to electrical of plumbing fixtures
Flooring repair or replacement
Add new windows or doors
Other VA Home Improvement Loans
If you need a loan that better suits your repair and alteration needs, you may want to check out other VA Home Improvement Loan options.
VA Energy Efficient Mortgages – These mortgages allow you to benefit financially from "going green." Whether you choose to structure it as a VA purchase or a refinanced loan, you can receive funds for different projects. This includes improvements to solar heating and cooling systems, thermal windows, and insulation.
Supplemental VA Loans – With this loan type, your home needs to be financed with a VA mortgage. You can use the money provided for projects that improve the livability of your home. These loans are structured in three different ways: added to an existing mortgage, structured as a second mortgage, or included in a refinance.
VA Cash-Out Refinance – A VA Cash-Out Refinance is the opportunity to pull out cash by tapping into their home's equity. Because it can be applied to any type of loan and does not require taking out a second mortgage, this option is very beneficial.
Specially Adapted Housing Programs – These grants exist to help veterans find more accessible housing. The Specially Adapted Housing Grant (SAH), the Special Housing Adaptation Grant (SHA), and the Temporary Residence Adaptation Grant (TRA) are the three main grant options. It is important to keep in mind that each grant has specific eligibility requirements.
VA Renovation Loans | Reichert Mortgage Team
As a veteran, I strongly support initiatives that allow all members of the military to have a safe and comfortable place to live. At The Reichert Mortgage Team, we take pride in providing VA Loan resources for everyone in Colorado Springs, Falcon, and neighboring communities. If you have any questions regarding the VA Renovation and Rehab Loans, don't hesitate to contact us.