The Department of Veterans Affairs offers VA Home Loans to veterans, as a program to help those who have served our great country buy homes. As a mortgage broker specializing in VA loans, we often get asked "Can I refinance a VA Loan?" Just like other loan types, you are able to refinance your VA loan. Whether you want to lower your monthly mortgage payments, lower your interest rate, or take cash out of the equity of your home, refinancing your VA loan may be a great solution for your needs.
At The Reichert Mortgage Team, we want to empower veterans and homeowners with home loan education. That's why we've prepared this quick guide on everything you need to know about Refinancing a VA Loan. Here, you'll learn about the two main options for refinancing your VA loan, as well as eligibility requirements for each.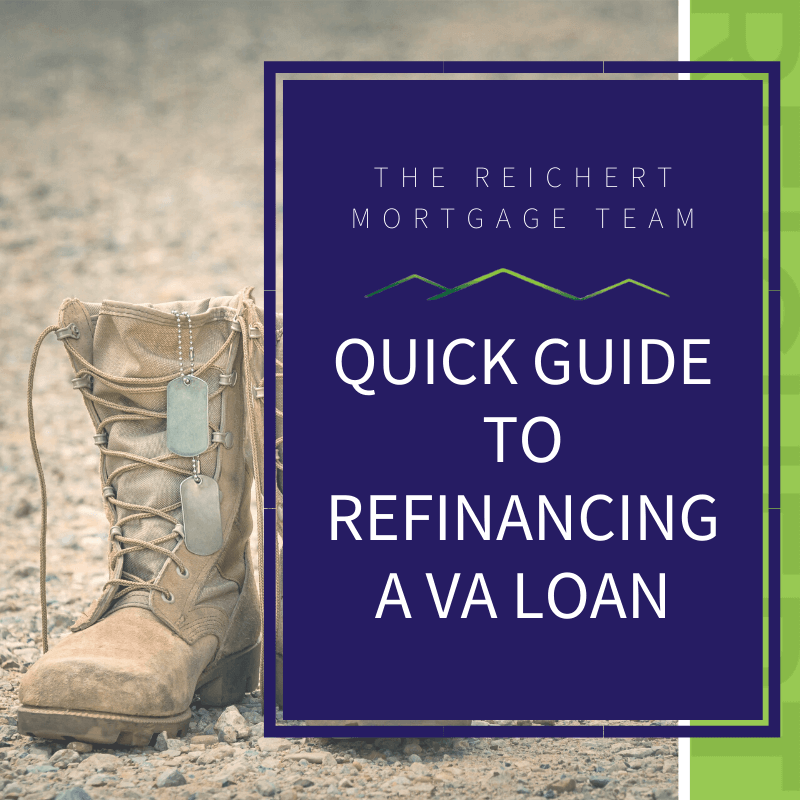 VA Loan Refinance Options: IRRRL and Cash-Out
There are two main programs for VA Loan Refinancing; each having their own set of benefits for you as a homeowner. If your goal is to lower your monthly payments and interest rate, the Interest Rate Reduction Refinance Loan (IRRRL) is for you. However, if you're looking to make improvements to your home or get some money out of your home equity, the Cash-Out Refinance Loan is a great option for VA loan holders as well.
Here's a breakdown of both refinance options:
VA Interest Rate Reduction Refinance Loan (IRRRL)
This refinance option is commonly called a "Streamline" refinance, due to its quick, low-hassle process. Having a good mortgage lender can help this Refinance option stay true to its nickname. This loan type will allow VA home loan holders the ability to take advantage of low-interest rates and get the opportunity to lower their monthly mortgage payments.
Benefits of VA IRRRL
Lower monthly payments 
Get a lower interest rate
Switch from adjustable-rate to fixed-rate mortgage 
Roll refinance fees into a new loan 
Home does not need to be a primary residence
VA Cash-Out Refinance Loan
The other popular VA refinance option is the Cash-Out. This allows homeowners to tap into their home's equity and pull cash for whatever they need. Most importantly, this refinance option is available to all qualified veterans no matter what original loan type they have (FHA, USDA, or Conventional). This is different from the IRRRL, as that refinance option requires you to already have a VA home loan in place.
Benefits of a VA Cash-Out
Refinance to tap into home equity 
Can use money from refinancing to pay fees 
With a VA loan, you need less equity in your home than other loans 
Get cash out without opening a home equity line of credit 
Don't need to take out a second mortgage
Are you Eligible for a VA Loan Refinance?
In order to refinance your existing VA loan, there are minimum requirements set in place to ensure a proper financial transaction can occur. Most VA loan lenders look at a combination of credit scores, appraisals, debt-to-income, and mortgage payment history.
In regards to your service eligibility, the requirements are very similar to VA Home Loans. Veterans must fit into the following categories:
Active duty military who has served 90 consecutive days of active service during wartime
Active duty military who has Individuals who have served 181 days of active service during peacetime
Honorably discharged veteran
Individuals who have served more than 6 years of service in the National Guard or Reserves
An unmarried spouse of a service member who has died in the line of duty from a service-related disability
Looking to Refinance Your VA Loan?| The Reichert Mortgage Team
As a veteran, I strongly support all initiatives that help brave, hard-working members of every branch of the military to thrive in the home of their dreams. At The Reichert Mortgage Team, we strive to be the ultimate VA Loan resource for everyone in Colorado Springs, Falcon, and neighboring communities. Once you obtain your VA Loan, it is important to know how it can benefit you throughout every milestone during your time as a homeowner. Refinancing a VA loan has great benefits, and is an easily accessible option for many veterans! If you have any questions about eligibility requirements, VA Loans, or our Pikes Peak Heroes program, then contact us today! Our team of qualified, compassionate members will navigate you through any VA Loan related questions.
More VA Loan Education Resources