As a veteran founded Colorado Springs mortgage broker, nothing is more important to The Reichert Mortgage Team than serving the local community. Each day someone's life is positively affected by a community hero. These heroes can come in the form of teachers, law enforcement, medical professionals, veterans, and firefighters. 
No matter what professions these inspiring individuals hold, their impact on the people of the community is monumental. As a way to serve these amazing individuals we created the Pikes Peak Heroes program and the Heroes in the Community blog series to feature locally nominated heroes.
What is Heroes in The Community?
In this blog series, we proudly highlight heroes in healthcare, military, law enforcement, first responders, educators, and more, by sharing information, local events, and ways to say "Thank You" to the people who have given their all to make our neighborhoods a better place to live.
As an addition to this series, every month we will spotlight a local "hero" who has made an impact in the Colorado Springs and El Paso County community. YOU get to nominate this person, and we will get the honor of interviewing this person and writing up an article about their story. As a veteran owned mortgage company, this is another way we can give back and honor those who have made a great sacrifice for freedom, knowledge, safety, health, and more.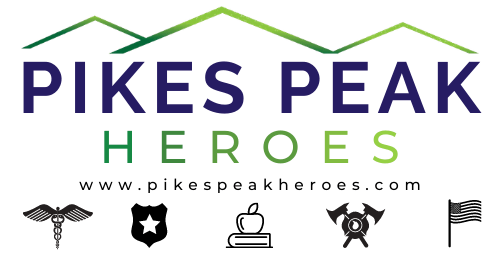 National Law Enforcement Appreciation Day
With National Law Enforcement Appreciation Day (L.E.A.D) occurring on January 9th, we figured it is the perfect time to recognize a local law enforcement hero! Law enforcement officers put on their uniform each day to protect and serve their community. Whether they are implementing first aid or investigating a crime, they face every situation with bravery and a passionate dedication to the community.
Nominate a Law Enforcement Officer
Each day in El Paso county is a new challenge that these tireless heroes face. Many of these individuals deserve recognition for their service. If you know a law enforcement who always goes above and beyond in the line of duty and you would like them to have them recognized for their service, nominate them as a hero of the community today! They will have the chance to be featured as our hero of the month! Not only will we interview them and tell their story, but The Reichert Mortgage Team is proud to donate $100 to a charity organization of their choice!
"Thank You" to all of our El Paso County Police Departments!
Colorado Springs Police Department on Nevada
Colorado Springs Police Department on Stetson Hills
Manitou Springs Police Department
El Paso County Sheriff's Office
Colorado Springs Police Department on N Academy