In Colorado Springs, we are very fortunate to be surrounded by hard working active service members, retired members of the military, as well as military families. There are over 140,000 active duty troops, veterans, and retired service members residing in the greater Colorado Springs area contributing to about 40% of the local economy. Military members constitute over a third of the adult population in the city increasing the likelihood that a VA home loan buyer may be a realistic option when you are selling a home in El Paso County. Historically, home sellers have been wary of selling to VA loan borrowers due to red tape but recently barriers have been broken.
As a mortgage broker in Colorado Springs, I want to assure you — a home seller — that getting involved with a VA loan borrower is not hard and can actually help get your home off the market quicker than many other loan types.
At the Reichert Mortgage Team, our goal is to provide comprehensive mortgage education to home buyers and sellers so they can feel confident in their home loan decisions on both sides of the transaction. I'm here to clear the air about the many misconceptions involved with VA loan borrowers so you can sell your home seamlessly while a well-deserved veteran may reside in the new home of their dreams.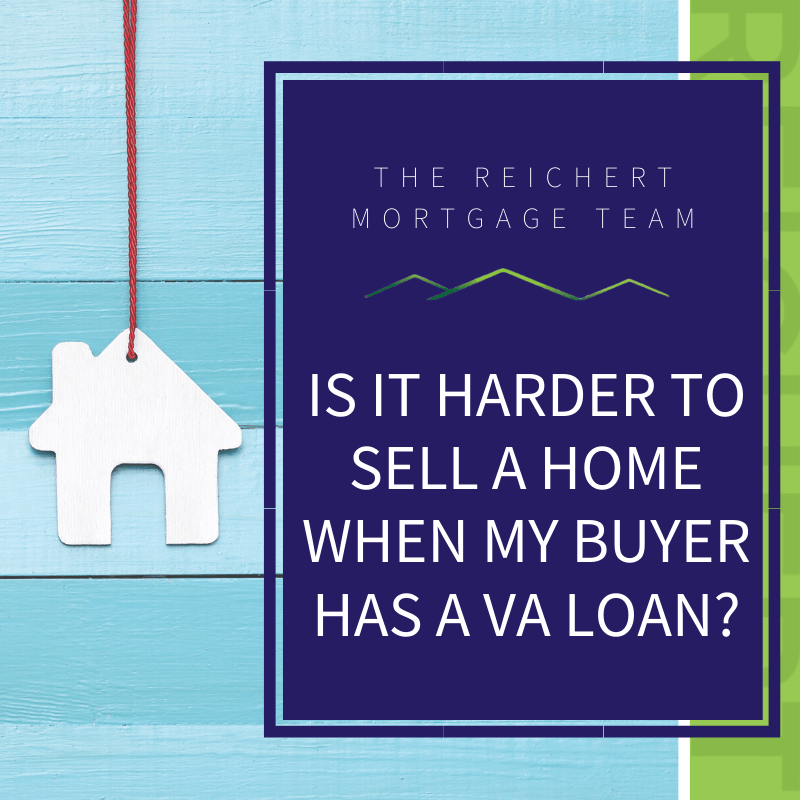 What are VA Loans?
VA Loans are established and guaranteed by the government to assist active and retired military personnel with homeownership. The VA does not originate VA home loans but does determine the eligibility around who qualifies for a VA home loan. Instead, veteran buyers can take out a loan through a VA qualified lender. VA loans were introduced in 1944 to help members purchase a home upon returning from duty. This type of loan requires a $0 down payment and often accepts lower credit scores in order to assist with the real estate process. Over the past 75 years, VA loan benefits have increased as seen with the 2019 loan limit increase. This loan program is incredibly advantageous and likely to be utilized by many potential home buyers. For VA borrowers, the steps in getting and using a VA loan will look something like this:
The first step in using a VA loan is pre-qualifying for one. A VA lender will get an estimate of the type of house you can afford based on a number of factors. Your income, credit, and entitlement play a large role in determining whether you are eligible for a VA home loan.
Once you are pre-qualified, the next step is getting pre-approved. Mortgage lenders will verify income and other financial information to determine your purchase price. This will result in receiving a pre-approved letter. A pre-approval letter is important to show real estate agents and sellers because it is a safer bet that you are seriously interested in home buying.
When you and your real estate agent find a home, you and the listing agent will put in an offer.
The next step is getting a VA appraisal of the house. This is a requirement of VA mortgages and determines that the house meets fair market value and the Minimum Property Requirements outlined by the VA.
After underwriters evaluate financial information and you sign many legal documents, your VA loan will close and you will finally be able to move into your new home.
Types of VA Loans
There are multiple types of loans for VA loan buyers, and your loan officer will work with you to figure out which is best when purchasing your home. The different types of loans include:
A VA purchase loan allows service members to buy a home with a $0 down payment. These types of loans help you buy, build, or improve your home. Usually VA-backed loans have better interest rates than other loans from a bank or credit union. This loan also does not have a penalty fee for paying it off early.
A cash-out refinance loan allows military members using a conventional mortgage to swap it out for a VA loan. A VA-backed cash-out refinance loan can also help veterans take cash out of home equity to use it to pay for other expenses, like school, debt, or home improvements.
An Interest Rate Reduction Refinance Loan (IRRRL) allows those with a VA mortgage to replace their pre-existing mortgage with a VA loan. This can help lower monthly payments or make them more stable by moving from a loan with a variable interest rate to one with a fixed rate.
A VA rehab and renovation loan helps service members making improvements to their home with financing the renovations cost. The amount you can finance depends on the value of the home once repairs and improvements are made.
The Native American Direct Loan (NADL) is available to Native American military veterans to assist them buy, build, or improve a home on federal trust land. For this loan, no down payment is required usually, and there is no need for private mortgage insurance.
Does My VA Loan Lender Matter?
The short answer is yes. Some mortgage lenders are considered a Nonsupervised Automatic Authority while other lenders are not. This is an important distinction because Nonsupervised Automatic Authority lenders usually close on loans faster. These lenders are able to complete VA loans completely and entirely while other lenders cannot close by themselves. This means lenders who do not have the authority to close loans have to go through the VA Home Loan Center, which can delay the closing of your loan. 
What are VA Appraisals?
For potential buyers, a VA appraisal is a necessary step for your lender to close the home loan. Appraisals are not home inspections. Rather, the point is to gather information about the sale price to ensure the asking price is fair and make sure military families are buying homes that are safe, structurally sound, and sanitary. The first step in getting the home appraised is to make sure the home meets the Minimum Property Requirements (MPRs) as compared to other properties of the same size, age, and location. Once your home is professionally evaluated, this information is gathered into a report called an appraisal, which decides what the home is worth.
What are Minimum Property Requirements for VA Loans?
According to the Department of Veterans Affairs, appraisals also go to show whether the property meets the Veterans Affairs' Minimum Property Requirements. These requirements make sure veterans and their families live in a home that is safe, structurally sound, and sanitary. If not, the home must be repaired before it is move in ready. Areas that must meet property standards include but are not limited to:
Adequate Heating. The home must be able to maintain a temperature higher than 50 degrees Fahrenheit.
Adequate Roofing. No major damage on the roof, holes, or caved-in areas.
Water Availability. Water must be checked for safety and sewage must be disposed of properly. Water wells must abide by localized laws.
Easy Access Home. No major obstructions that block entering or leaving the home.
No Evidence of Termites. No termite infestation or substantial wood decay.
How Long Do VA Appraisals Take?
After home appraisers take the report, it is uploaded to the VA's portal usually within 15 days in the state of Colorado. After the report is uploaded, it will be reviewed by a VA approved appraiser or the mortgage lender's Staff Approved Reviewer (SAR). The objective of this review is to figure out if the estimated market value of the home adds up and if the property meets MPRs.
In the best circumstances, the report will be reviewed within five business days if all requirements of the loan are met. The lender's SAR will issue a Notice of Value (NOV) to inform you that the home has met the necessary requirements to close the loan.
If your home does not meet all the requirements, then you or your appraiser will have an opportunity to negotiate with the seller to lower the asking price so it is below the appraised value. If the home does not meet MPRs, then you or the appraiser can also negotiate to fix the repairs to get the deal moving forward.
If everything works out, the appraisal will be finalized and so will the VA home loan!
How Does Using a VA Loan Impact the Seller?
With so much of the population throughout Colorado Springs, Falcon, Peyton, Monument, Security-Widefield, and other areas consisting of military personnel ranging from Peterson Air Force Base to Fort Carson to Schriever Air Force Base and more, it is important to know how a potential VA home loan buyer will impact you as a seller. While VA home loans were designed to help brave military personnel, they were not designed to cover sellers. However, after almost eight decades after the original GI bill was formed, many concerns have been resolved so that VA loans may benefit both parties.
VA Loan Closing Costs for Sellers
It is a very common misconception that sellers should avoid VA buyers since they need to pay their closing costs. This is a myth. While seller concessions allow for the option to pay for some closing costs in order to negotiate the deal or opt for the ability to pay for closing costs rather than lower the overall price of the home, sellers are not required to pay any closing fees. It is true that VA loans don't require borrowers to pay for closing tax fees, application costs, etc., but the seller does not need to cover that. Often, these are included in the mortgage lender's fees, which are covered by the buyer. Ultimately, as a seller, you have the same concession options for any type of program and do not need to be concerned about paying for VA closing costs because you simply do not have to.
How Often Do VA Loans Close?
According to the August 2019 Ellie Mae Originations report, 66% of homebuyers using a VA home loan closed, while 54% of homebuyers with a conventional loan closed. VA loans are incredibly competitive even compared to a conventional loan with the average closing time at 42 days; this type of home loan closed at a national average of 46 days in August. As a mortgage broker specializing in VA loans, we are able to streamline the closing process by making the underwriting decisions, funding the loan, and sending the loan to the VA for insurance.
VA Loan Program | Reichert Mortgage Team Can Help
I am honored to be a veteran myself, so I want nothing more than to serve my community, which includes benefiting both VA home loan buyers and sellers. As a VA approved mortgage broker specializing in VA loans, we are able to streamline the home purchase process for the home buyer and seller.
At the Reichert Mortgage Team, our experts will help you successfully navigate the home buying process so you know that you are in great hands. Whether you're a buyer or seller or simply have questions about VA loans and how they can impact the mortgage process, contact us today. We are here to serve our neighbors in the incredible city of Colorado Springs, Falcon, Peyton, and more.