In Colorado Springs, we are very fortunate to be surrounded by hard working active and retired members of the military. There are over 140,000 active duty troops, veterans, and retired members residing in the greater Colorado Springs area, contributing to about 40% of the local economy. Military members constitute over a third of the adult population in the city, making the likelihood that a VA loan borrower may be a realistic option when you are selling a home in El Paso County. Historically, home sellers have been weary of selling to VA loan buyers due to red tape, but barriers have been broken.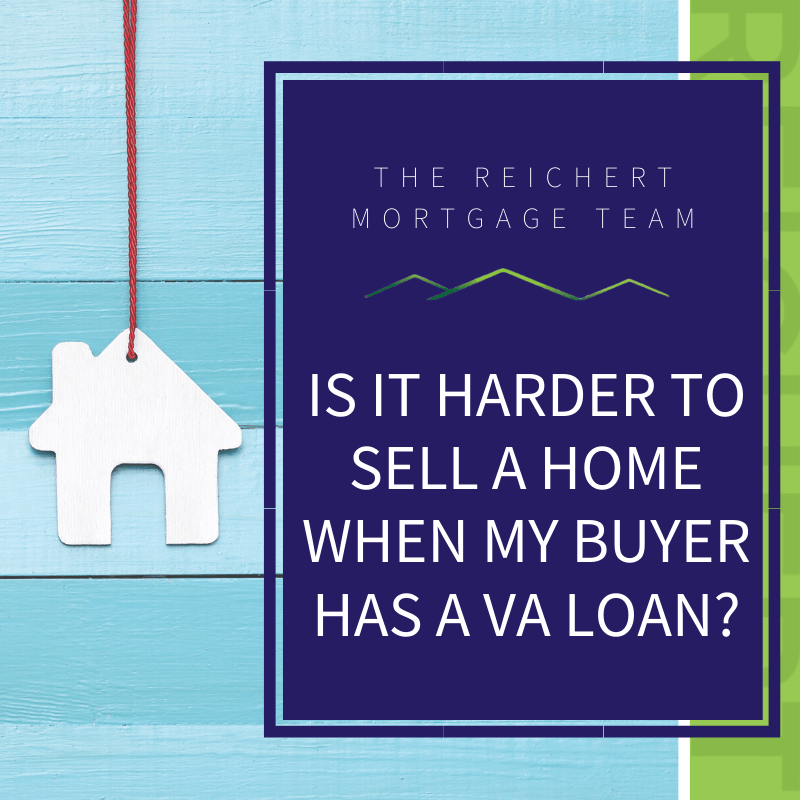 As a mortgage lender in Colorado Springs specializing in VA home loans, I want to ensure you, a home seller, that getting involved with a VA loan borrower is not hard, and can actually help get your home off the market quicker than many other loan types. At the Reichert Mortgage Team, our goal is to provide comprehensive mortgage education to home buyers and sellers, so that they can feel confident in their home loan decisions on both sides of the transaction. I'm here to clear the air about the many misconceptions involved with VA loan borrowers so you can sell your home seamlessly, while a well-deserved veteran may reside in the home of their dreams.
What Are VA Loans?
VA Loans were established to assist active and retired military personnel with the home buying process. VA loans were introduced in 1944 to help members purchase a home upon returning from duty. VA loans require $0 down payment and often accept lower credit scores in order to assist with the process. Over the past 75 years, VA loan benefits have increased, including the 2019 VA loan limit increase. This loan program is incredibly advantageous and likely to be utilized by many potential home buyers in Colorado Springs.
How Do VA Loans Impact Sellers?
With so much of the population throughout Colorado Springs, Falcon, Peyton, Monument, Security-Widefield, and more consisting of military members ranging from Peterson Air Force Base to Fort Carson, Schriever Air Force Base and more, it's important to know how a potential VA loan borrower will impact you as a home seller. While VA loans were designed to help brave military personnel, they were not designed to cover sellers with red tape. Almost eight decades after the original GI bill was formed, many concerns have been resolved so that VA loans may benefit both parties.
How Often Do VA Loans Close? 
According to the August 2019 Ellie Mae Originations report, 66% of VA loans closed, while 54% of Conventional loans closed. VA loans are incredibly competitive, with the average closing time at 42 days, VA loans closed in a national average of 46 days in August. As a mortgage lender specializing in VA loans, we are able to make the underwriting decisions, fund the loan, and send the loan to the VA for insuring, which streamlines the closing process.

VA Loan Closing Costs for Sellers

It is a very common misconception that sellers should avoid VA loan buyers since they need to pay their closing costs. This isn't true at all. While seller concessions allow for the option to pay for some closing costs in order to negotiate the deal or opt for the ability to pay for closing costs rather than lower the overall price of the home, sellers are not required to pay any closing fees. It is true that the VA loans don't require borrowers to pay for closing tax fees, application costs, etc, but the seller does not need to cover that. Often, these are included in the lenders fees which are covered by the buyer. Ultimately, as a seller you have the same concession options for any type of program and don't need to be concerned about paying for VA closing costs, because you simply do not have to.
VA Loans | Reichert Mortgage Team Can Help
I am honored to be a Veteran myself, so I want nothing more than to serve my community which includes benefiting both VA borrowers and various sellers. As a mortgage lender specializing in VA loans, we are able to make the underwriting decisions, fund the loan, and send the loan to the VA for insuring, which streamlines the closing process. At the Reichert Mortgage Team, our experts will help you successfully navigate the home buying process so you know that you are in great hands. Whether you're a buyer or seller or simply have questions about VA loans and how they can impact the mortgage process, contact us today. We are here to serve our neighbors in the incredible community of Colorado Springs, Falcon, Peyton, and more.