As many enjoy the start of the new year, veterans and active duty military across the United States are finding another reason to celebrate—increased VA loan limits for 2019. For qualifying veterans, 2019 is an incredible opportunity to begin thinking about and investing in long-term goals.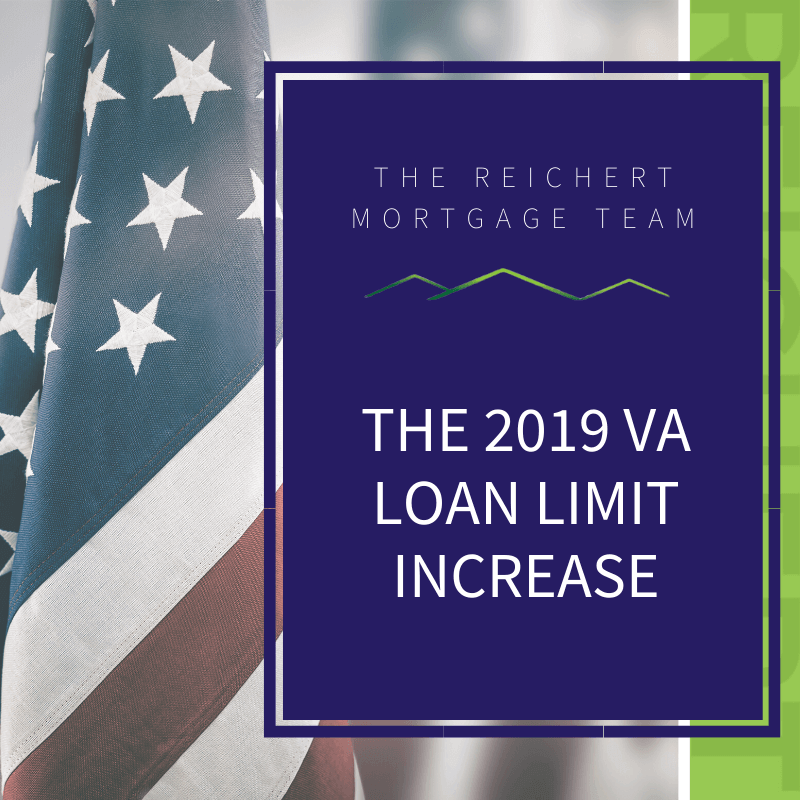 Here at The Reichert Mortgage Team, we are here to help, as we are specialists in Colorado VA Home Loans. As a veteran myself, I am proud to use my years of experience in the mortgage industry to assist every veteran and active duty military member looking a purchase a home in 2019. Here's what you need to know about the VA loan limit increase for 2019.
What is the New VA Loan Limit?
According to the Federal Financing Housing Agency, most counties in Colorado, including El Paso, fall under the range of the new standard U.S. conforming loan limits. These limits estimate the loan amount that the VA will guarantee. Per unit, the new VA loan limits are as the following:
One Unit: $484,350
Two Units: $620,200
Three Units: $749,650
Four Units: $931,600
What Date Does the VA Loan Limit Increase Go Into Effect?
As 2019 guidelines, these limits apply to a VA loan effective between January 1, 2019 and December 31, 2019. Any loan closed during this period can qualify for the new loan limit. Loan limits remain consistent throughout the year. However, after December 31, loan limits are subject to change in order to emulate current housing trends.
What Does This Mean for Veteran Homebuyers in Colorado Springs?
Per the adjusted House Price Index (HPI) report authored by the FHFA, current inflation based on average home prices is up by 6.9%. To reflect these changes, current VA loan limits must match or exceed this growth. This means that in all but 47 counties, 2019 loans exceed 2018 limits. Combined with the increased value of Colorado housing property, this means that current loan limits are cost effective for prospective Colorado homebuyers.
Not all buyers will be able to qualify for the maximum amount set by the loan limit. Additionally, the 2019 increase only applies to conforming loans (excluding jumbo loans). However, for qualifying veterans and active duty military, the VA 2019 loan limit increase can provide the opportune time to purchase a home, with improved loan limits over 2018.
How to Apply for a VA Loan
VA approved lenders in Colorado Springs are the best way to get assistance in researching and applying for a VA loan. The Reichert Mortgage Team specializes in VA loans and can help you find what loans you are eligible for and the best process for applying for one. With a knowledgeable lender, qualifying veterans and active duty military can present the required documents and find the loan that best suits unique needs, along with getting assistance through the approval and underwriting stages.
The Reichert Mortgage Team | Best VA Loan Broker in Colorado Springs
With the increased VA loan limits from last year, 2019 is an opportune time for qualifying veterans and active duty military looking to purchase a home in Colorado. Nothing is more important to me than serving my community. I want to ensure that my fellow veterans are getting the value for their money that they deserve.
For this reason, along with our exceptional customer service, I can assure you that The Reichert Mortgage Team is the best mortgage broker for the job, both due to our niche specialization in VA loans and our years of experience in this field and as a veteran. Click "Apply Now" to begin the mortgage process, or for more information, give us a call at (719) 205-0413.