Last year, Colorado Springs was ranked as the #1 most desired place to live out of the entire United States! Even though it is a great honor to call the Rocky Mountains home, this nomination means that places in El Paso County are about to grow tremendously. From Falcon, to Monument, and Denver to Pueblo, the growth in real estate for selling and buying homes is predicted to be exponential this year.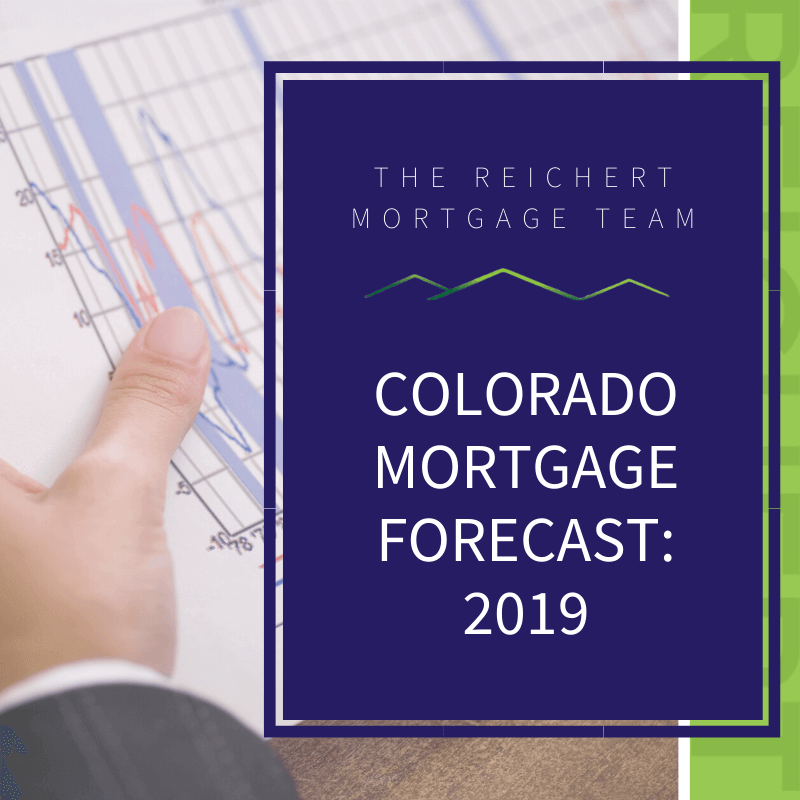 As a mortgage broker in Colorado Springs, I know how complex the mortgage industry can be, for both current and new residents to Colorado. At the Reichert Mortgage Team, we make it a priority to stay on-top of the changes in the mortgage industry and housing market to keep you educated and informed. That's why we've created a concise mortgage forecast for 2019 homebuyers. If you're thinking of applying for a home loan this year, here's what you need to know.
Mortgage Rates Increasing
With such focus on Colorado as a growing housing market, mortgage rates for 2019 are expected to increase to an estimated 5.1% for a typical 30-year fixed loan. However, unless inflation plays a role, experts say that slower economic growth should contribute to a stabilization of these rates. This stabilization should result in more affordable mortgages throughout the year, despite rising costs. Prospective homebuyers should anticipate having a good credit score and a larger down payment to compensate for the rise in rates, but stabling rates will contribute to more affordability than in past years.
More People Moving to Colorado Springs
With desirability levels and the number of millennials interested in moving to Colorado, 2019 is expected to grow Colorado's population, particularly Denver and El Paso counties. For this reason, the median cost of a home in the Springs is currently around $372, 300, but this value is expected to rise by 4.8% over the next year. Summer in particular will see an increase in the purchase of real estate, along with a rise in cost.
Housing Inventory/New Construction in Colorado Springs
To compensate for the number of people moving to Colorado, El Paso county, including Colorado Springs, Falcon, and Monument, construction of new homes is likewise expected to increase, wherever land is still available to be developed. However, the housing inventory is only predicted to rise substantially for upper-end price points, with more affordable starter homes keeping at a moderate pace. This is good news to homebuyers applying for home loans in 2019.
VA Loan Limit Increase
As a military area, another positive impact on the Colorado 2019 mortgage forecast is the increase on VA loan limits. Per the Federal Financing Housing Agency, most counties in Colorado, including El Paso, fall under the range of the new standard U.S. conforming loan limits, which were extended from 2018. This new extension may cause an increase in the number of veterans and active duty military who start or refinance a mortgage in 2019, causing the housing market to pick up, possibly affecting rates.
Learn more about the 2019 VA Loan Limit Increase.
Best Time to Get a Mortgage in 2019
Despite the rising costs predicted for 2019, the best time for a mortgage is now, in the early months of the year. With the expected population growth and real estate boon for the summer, prospective homebuyers benefit by investing in a home before this hits when further costs will rise. Purchase of an early mortgage is also very beneficial for veterans or active duty military who have the advantage of increased VA loan limits.
Having a local mortgage broker or lender who can & lender like The Reichert Mortgage Team also gives homebuyers an advantage in the 2019 housing market. We not only provide excellent service and value, but with good credit, we often have rates and fees LOWER than the national average!
The Reichert Mortgage Team | Mortgage Broker in Colorado Springs
For prospective homebuyers, Reichert Mortgage Team specializes in VA loans, FHA loans, and conventional home loans here in Colorado Springs. As a Colorado homeowner and veteran myself, I can assist in helping you find the right mortgage for your needs better than any non-local lender could. Along with our diverse loan options, we offer credit counseling to help you combat 2019's expected rising rates. Talk to an expert today for more information, with no pressure, by calling (719) 205-0413, or contacting us here.