The Home Buying process can seem both time consuming, and extensive, but there is no better feeling than closing on your new home. In order to get you to that final step, there are a couple of things to keep in mind before signing the final documents. As a mortgage broker in Colorado Springs, we help families all over El Paso County ensure that closing time goes as smoothly as possible. Here are our best professional tips on what to do before closing on your new house.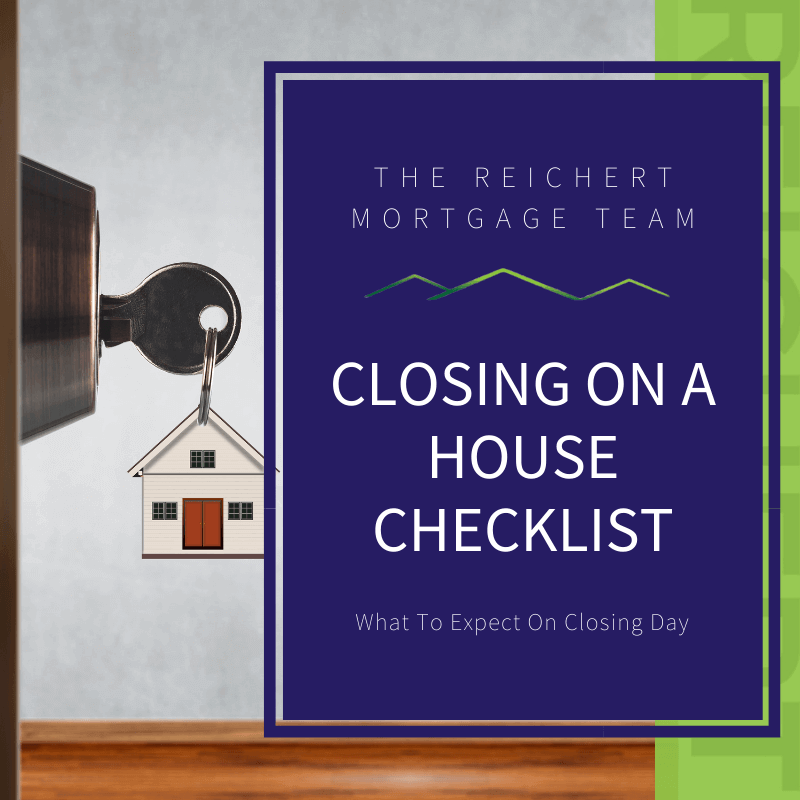 What To Expect On Closing Day
Closing Day is the last step in the mortgage process. This is when the final paperwork gets signed, closing costs are paid, and the property ownership officially changes hands. Both the buyer and the seller come to the closing, as well as a closing agent and real estate agents. In order to get to the closing and celebrations, there are a few important steps to ensure you are prepared to close on your new home. Follow the steps below to stay on top of your game and ensure that your closing experience is less stressful.
1. Get a Home Appraisal
Just like the home inspection can make sure everything is all right before you purchase, a home appraisal ensures that the asking price is fair and accurately represents the value of the home. Usually, this step happens when the home is listed for sale, so you can ask your real estate agent if an appraisal has already been done or not. Essentially the appraisal is a checks and balances task when closing on a home. You want to use the appraisal to double-check that you are not overpaying for the home and that it is listed at a fair price. 
2. Get a Home Inspection
A home inspection is a survey done by a professional to evaluate all aspects of a house, from the foundation to the attic. These inspections thoroughly investigate all the systems in your house—electrical, plumbing, HVAC, etc.—and can confirm whether or not the house is in good condition. Home inspections are well worth it to make sure there are no issues. If something is wrong, you can address it with the seller party prior to closing. We can not stress the importance of having your home inspected prior to closing. Inspectors are trained in identifying hidden issues that an untrained eye will overlook. In the end, the small price of an inspection will prevent massive potential issues and or costs in the future
3. Review Documents
Before your closing day, make sure you review all of the loan and buyer paperwork prior to closing time. If your loan was just pre-approved, make sure that final mortgage approval goes through during the underwriting stage of the loan process. A quality mortgage lender will be transparent with these documents and make sure that you have everything you need.
Additionally, review all items associated with closing, including settlement papers and the final cost of closing, so that you are prepared for the actual day. Once everything is reviewed and you are happy with the purchasing plans, don't make any life changes. Switching jobs or making major purchases could change the status of the loan or purchase agreement.
4. Closing Documents
Closing, like the rest of the home buying process, requires a large amount of paperwork. Gathering this paperwork before closing will make the actual day go much smoother.
For the closing day you need the following:
a. A copy of the contract
b. Proof of homeowner's insurance
c. Two forms of identification
d. Any additional paperwork involved
e. Additionally, you will need a cashier's check covering the full closing costs with you on the day of closing.
5. Resolve all Contingencies
After your home inspection is completed you will receive a report of action items that need to be fixed. In some cases, some of the items will need to be repaired prior to anyone occupying the home. Prior to closing, you will have a chance to negotiate with the seller to resolve any issues. For example, if there is an issue with a damaged roof you may counter offer requesting the roof be fixed or that the cost of the roof is deducted from the sale price. It is important to make sure that all of these contingencies are negotiated prior to closing on the home.
6. Prepare to Pay Closing Costs 
Now that you have read through all documents related to your home purchase you may have noticed that closing costs will need to be paid on closing day. In Colorado according to a study conducted by Bankrate, the average closing cost is approximately $2,000 spread between origination fees and third-party fees. However, we have found that 2%-5% of your home's value is a more accurate measure. You will need to read the specifics of your agreement because in some cases this will fall on the buyer and sometimes it will fall on the seller.
7.Examine Title 
Although you may have already read through the title of your soon-to-be home it is important to take another look at. For those buying in Colorado, it is not uncommon to buy a piece of land that has specified water rights or regulations. Additionally, your title may include a survey of the land depicting where government and utility easements are designated. Read through these and do a little research to understand your property.
8. Obtain Homeowners Insurance
Since you will soon own a home you will be required to have homeowners insurance on closing day. Shop around at some different home insurance companies and find one that fits your needs and price range.
9. Final Walk-through
Lastly, most contracts allow the buyer to perform a walk-through of the house 24 hours before the closing day. This gives you one final opportunity to make sure that the house meets the standards agreed upon, verify repairs, check for any potential issues, and run all the heating and electric systems to ensure they are set. You want to feel confident about your purchase and now is the time to run through any last-minute concerns.
10. Transfer Utilities 
Prior to closing days, some sellers will allow you to transfer utilities into your name and set up payments. This allows you to make sure that the heat is never turned off and that everything is working when you turn the key to your home for the first time.
11. Sign Mortgage And Deed Documents
Closing day will arrive sooner than you think and before you know it you will be signing on the dotted line transferring the deed documents into your name. Additionally, you will officially sign your mortgage documents, and just like that, you are officially a homeowner!
House Closing Process | The Reichert Mortgage Team
Having an honest and local mortgage broker on your side during the closing process can make a huge difference. Integrity is our number one priority at The Reichert Mortgage Team, which means that we are here to answer all your questions as you prepare to purchase a home. Whether you are looking for a home loan, or want someone trustworthy to give advice, we can be that source. We are a mortgage broker in Colorado Springs, with an office located in Falcon, CO who understands and cares about our community! Feel free to contact us or give us a call at 719-205-0413 today so we may ease any of your home buying concerns!