As a veteran myself, I'm very familiar with having to relocate to a new city in a new state, and sometimes, even a new country. It's always an adjustment transferring to an unfamiliar place. When it came time to retire, me and my family knew no better place than Colorado. So, if you and your family are being relocated to Colorado Springs, you're in luck! Colorado Springs has been one of our favorite places to live, even after moving here ten years ago.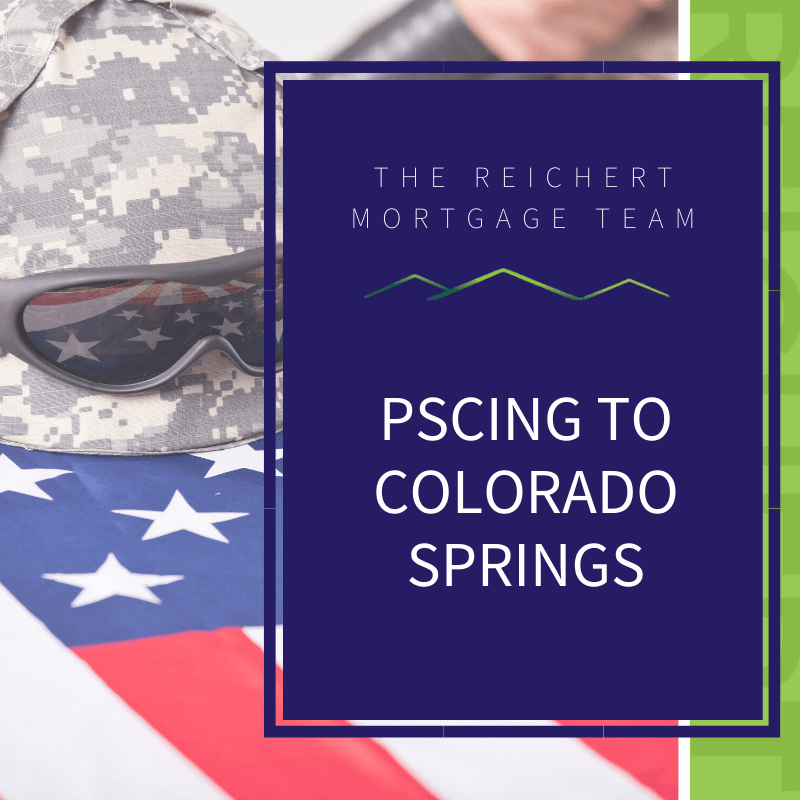 With 300 days of sunshine, surrounded by the vastness of the Rocky Mountains and Pikes Peak, there is never a lack of beauty or outdoor activities. The Springs is also home to four military bases—Air Force Academy, Peterson Air Force Base, Schriever Air Force Base, and Fort Carson Army Base—which means that there is a lot of active and retired military in this area. Given that Colorado Springs is the second-largest city in CO, it can be overwhelming for those who are unfamiliar, however. That's why The Reichert Mortgage Team has created a guide for anyone who is making a PCS (Permanent Change of Station) to Colorado Springs.

Neighborhoods & Schools
Colorado Springs is a very large city with multiple options for housing. As of October of 2020, the median house price in the state is around $423,364 and the average rent price is $1,900. Military families tend to live near the military base that they are stationed at, or even in the outskirts of the Springs as well, finding homes in Falcon (east of COS, and where The Reichert Mortgage Team is located), Monument, and Fountain. With the many school districts, there are plenty of public, charter, and private schooling options for your children as well. Throughout these various neighborhoods and school districts, you will find unique places to adventure, dine, partake in outdoor activities, and much more. In addition to these k-12 schools, Colorado Springs is also home to a number of higher education college-level schools. These include; the University Of Colorado Colorado Springs, Colorado College, United States Air Force Academy, Colorado Technical University, and Pikes Peak Community College.
Steps for Getting a House Before Moving
Trying to find your new home from across the country can be a challenge. Luckily, there are a few options to travel to COS to find your house purchasing team (mortgage lender and real estate agent) and to find a house. Military personally can take a 10 day, TDY (Temporary Duty) if they have received a PCS notice. This might allow you some time to come visit, or even get ready to purchase before you are transferred. You may also apply for Temporary Lodging Expense (TLE) for up to $180 a day with your PCS.
However your timeline falls, it is very important that you find a local lender and realtor to help you with your house hunting journey. Finding a company that knows the area and is familiar with the details of military relocation will be invaluable to your move into a new state. It can be hard to find a trustworthy individual, though, which is why you should do research ahead of time. Read reviews, backgrounds, and websites to find out more about the best mortgage companies in Colorado Springs.
Apply for a VA Loan
If you are buying a house in Colorado Springs, you might apply for a VA loan: the $0 down mortgage program that is specifically designed for active and retired military to obtain a home loan. As long as you've served 181 consecutive days of active service during peacetime, or have served more than 6 years in the National Guard or Reserves, you may apply for a VA Loan. You can even get pre-approved for a loan amount even before you buy a house. Here are some VA Loans: Frequently Asked Questions if you are new to the process. This option is what we would highly recommend, as knowing what your approved price range is can save you and your realtor time. Finding a lender who specializes in VA Loans, like The Reichert Mortgage Team, is also very important, as you may have to work with someone while you're in a different state. You want to make sure that your lending team is qualified and knows exactly what to do in a PCS situation.
Have Questions About Your PCS? |The Reichert Mortgage Team
As a veteran-owned and operated mortgage company, we understand the logistics of being relocated for the military. We can offer expert advice and service when it comes to helping you find a qualified team, help you apply for a VA loan, and get you into a home as quickly as possible. At the Reichert Mortgage Team, we specialize in not only mortgage solutions but also specialized VA home loan solutions. If you have any questions or want to schedule a phone call with one of our approved VA brokers, contact us!