Here at The Reichert Mortgage Team, we work hard to get you the best mortgage rates in Colorado. That's why we take the time and effort to gather data on the current lending rates for 2018. While these rates change frequently, it is still beneficial for you to know what type of rates are affiliated with which type of loan. In CO, there are three main types of loans which have different rates: conforming loans, government loans, and jumbo loans. Read on to learn the current lending rates for each of these types of loans and see which is right for you.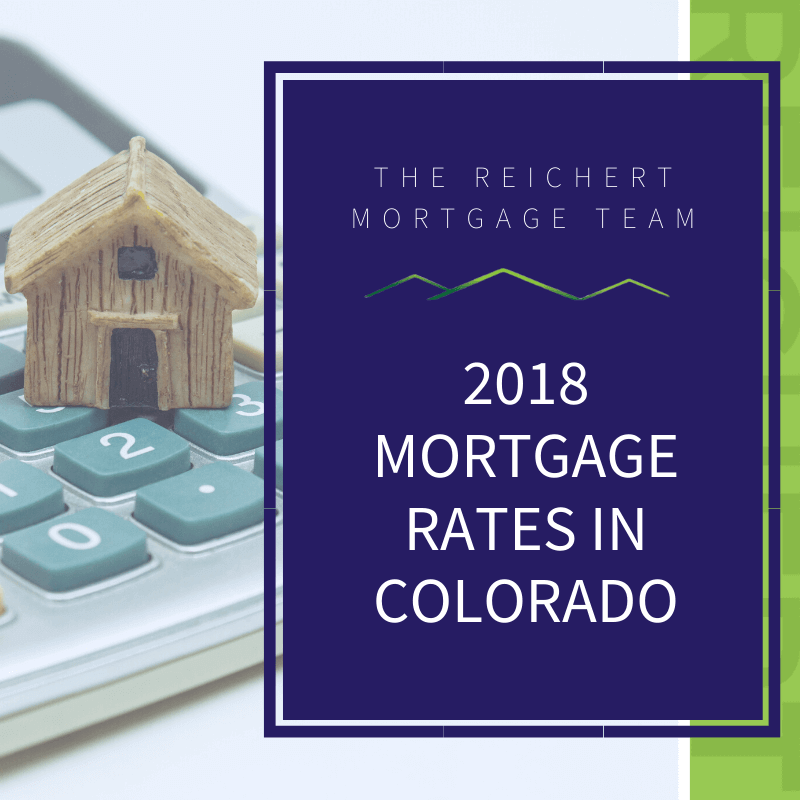 Conforming Loans
For the average homebuyer, a conforming loan covers all the bases. A conforming loan is a "regular" loan that conforms to the standards of government-sponsored entities. These loans can have fixed or adjustable rates or a combination of the two. Fixed rates come in payback periods of 30, 20, 15, or ten years, which affect the interest rate that you will receive. Other things that affect mortgage rates include the lender or broker, the payback period, the amount of the loan, and the homebuyer's credit score.
Conforming Loan Rates
On average, a 20-year fixed rate is approximately the same as a 30-year mortgage. Likewise, the Colorado average for a 15-year fixed rate is about 0.25% better than a 30-year fixed rate. Generally, a fixed rate for a Colorado homebuyer in 2018 ranges from 4.5% to 5.125% with an overall APR of between 4.6% to 5.225%.
Adjustable-Rate Mortgage
Additionally, an adjustable-rate mortgage (ARM) may provide even more competitive rates. Adjustable rates come in packages of 7/1, 5/1, and 3/1, where the first number is the number of years on a fixed rate while the second number is how often the rate is adjusted consecutively. These mortgages are useful for homebuyers who are looking to sell quickly, or who desire the potentially lower adjustable rate. On average, in Colorado, a 5/1 ARM is only 0.125% lower than a fixed rate.
These conventional rates have been steadily increasing in 2018, which means that if you're looking to purchase or refinance a home, doing so as early as possible is normally the best decision. Colorado Springs, Falcon, and many surrounding areas are experiencing these rates, so talk to your local mortgage lender to learn more.
Government Loans
VA Loan Rates 2018
Depending on your circumstances, you may qualify for a government-controlled loan, which will likely have lower rates. The most common gov't loan type, a VA loan, is available to qualifying active duty or veteran service members. As a state that honors its servicemen, Colorado offers favorable rates in the form of a VA loan. VA loans consist of 30 or 15 year fixed rates, with current competitive averages term.that are usually lower than conventional rates by approximately 0.3875%. Plus, with the added advantage of no mortgage insurance, the monthly payment is usually significantly lower than conventional options.
FHA Loan Rates 2018
Additionally, for non-service members, potential homebuyers might consider a loan insured by the Federal Housing Administration. This FHA loan offers borrowers with a credit score above 580. The interest rate is normally on par with VA loans, but must have an upfront and monthly mortgage insurance. It's still a great option for those who aren't able to qualify for a conventional VA loan.
Jumbo Loans
Jumbo Loan Rates 2018: Finally, a jumbo loan covers non-conforming homes, such as those exceeding the limit of $453,100 in CO. Jumbo loans come in fixed or adjustable rates; however, due to the size of the loan the rates are often higher than conforming loans. On average, rates are approximately 0.25% higher than normal conventional loans.
Find out Your Potential Mortgage Rate
With these averages, now is a fantastic time to buy a home in Colorado. Depending on your credit score and the amount of the loan, Colorado 2018 mortgages could save you money in the long run. If you would like more information about mortgage rates in Colorado or the loan process, contact The Reichert Mortgage Team. We are located in Falcon, CO, and provide residential mortgages for Falcon, Colorado Springs, Fountain, Monument, and any other location in the state. Give us a call at (719)-205-0413 to speak with one of our qualified lending professionals!
~ The Team
(719) 205-0413
​ReichertMortgageTeam@gmail.com
7635 Mclaughlin Rd, Falcon, CO 80831