With the holiday season quickly approaching, many homeowners across Colorado Springs are looking to reduce their monthly mortgage payments or stabilize them to make budgeting easier. If you secured your current property with a VA loan, then VA Streamline Refinancing may be the perfect way to adjust your mortgage and decrease financial stress.
With interest rates at a record low in the U.S., and the VA loan experts at The Reichert Mortgage team are able to provide quick closing processes with low fees, allowing our neighbors throughout Southern Colorado to breathe a sigh of relief before the holiday season arrives.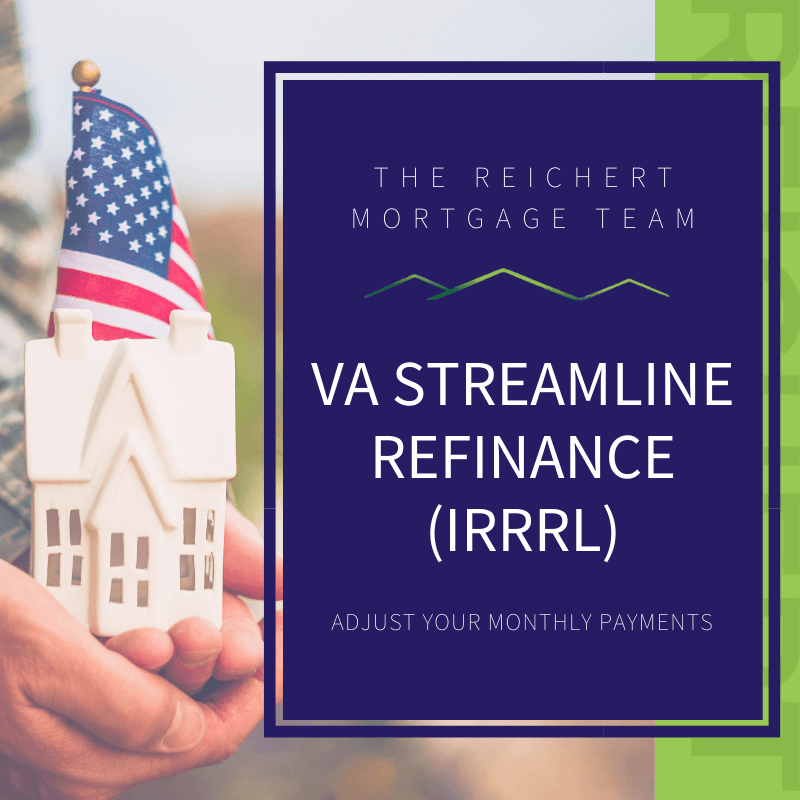 What Is An IRRRL?
Interest Rate Reduction Refinancing Loan (IRRRL) is also known as a VA Streamline Refinancing. This program requires significantly less documentation and paperwork than traditional loans. If your current home was secured by utilizing your VA loan eligibility benefits, then you may qualify for an Interest Rate Reduction Refinancing Loan (IRRRL). A VA IRRRL allows you to either lower your monthly mortgage payments through reduction in interest rate or by transitioning your mortgage to a fixed interest rate.
VA Streamline Refinance Pros and Cons
As with any financial decision, it is important to weigh the pros and cons of an IRRRL. While VA Streamline Refinancing is one of the best home loan refinancing options on the market, it still needs to be beneficial for your specific situation as a VA homeowner.
IRRRL Pros
An IRRRL is one of the most beneficial programs available for VA homeowners. The ability to quickly close with low out of pocket costs can make a significant difference on the financial well-being of a VA homeowner. IRRRL benefits include:
Lower your monthly mortgage payment by reducing interest rate
Stabilize your monthly mortgage payment by moving to a fixed interest rate
No appraisal required
No income, asset, or credit documentation needed
Quick closing
You can use any qualified VA home loan lender
IRRRL Cons
When weighing the pros and cons of a VA streamline refinance, it is vital to determine that the pros and cons ultimately work in your favor. While most of the pros outweigh the cons of an IRRRL, consider the following:
You can only use an IRRRL on a current property that was secured with a VA loan
Refinancing may result in higher finance charges over the life of the loan
This is not a cash-out program
You may not use the proceeds to pay for other loans
Is a VA Streamline Refinance Right For You?
With little documentation required and an efficient closing process, the IRRRL is incredibly beneficial for most VA homeowners. It is important to factor in items such as closing costs that may be rolled into the new loan to ensure that you are netting overall benefits. Connect with a trusted VA home loan expert to discuss the length of your VA loan, how long you intend to occupy the home, and more to determine if the benefits of the IRRRL are right for your unique situation.
Refinance Your VA Loan | The Reichert Mortgage Team
As VA loan experts, The Reichert Mortgage Team is proud to connect with military members across Colorado Springs, Falcon, Monument, and neighboring communities to provide VA streamline refinancing. If you currently hold a VA home loan and would like to either lower or stabilize your monthly mortgage payment, then a IRRRL may be perfect for you. Connect with our team of VA home loan specialists to learn how this VA refinancing opportunity may benefit you or refer a friend to lower their stress this holiday season.