One of  Reichert Mortgage's core values is community. This is because we are not only passionate about serving the Colorado Springs community but also helping it flourish. As a mortgage brokerage, we help homebuyers throughout our community purchase or refinance their dream homes. However, we don't stop there, whether you have lived in Colorado Springs for your entire life or have recently moved here, our ultimate goal is to invite you into the thriving community of your fellow Coloradoans. 
With the holiday season quickly approaching, there are plenty of ways to get involved in the community with the many festivities happening throughout Colorado Springs. Whether you are looking for fun, new traditions to start with your children, or want to take your significant other on a festive date, there are plenty of events and activities to explore. To make sure you don't miss out on any, our team has created a list of the top five Christmas activities happening throughout Colorado Springs.
1. Acacia Park Ice Rink  
When: November 12th through the rest of the winter.
Where: 113 E Platte Ave, Colorado Springs, CO 80903
What: Ice skate under twinkling lights at the Acacia Park ice rink. This classic Christmas tradition is a favorite among the Colorado Springs community. Whether you want to take your whole family or want to spend some special time with your significant other, this is a perfect way to make lasting memories.
2. Santa Express Train  
When: November 19th – December 24th and December 26th – 30th.
Where: 330 Royal Gorge Blvd. Canon City, CO 81212
What: Journey through the breathtaking Royal Gorge aboard the Santa Express Train to pick up Santa at the North Pole. Enjoy holiday music, hot cocoa, and warm cookies on your ride. Once Santa boards the train, he will greet each child and give them a very special present.
3. Festival Of Lights Parade
When: Saturday, December 4th.
Where: The parade will start at St. Vrain Street and go south on Tejon to Vermijo Street.
What: Enjoy twinkling holiday lights and festive floats at the 38th annual Festival Of Lights Parade. Known as Colorado Springs' oldest holiday tradition, this parade offers festive joy for all ages. Find a spot along the parade route in downtown Colorado Springs and enjoy the show.
4. The North Pole – Santa's Workshop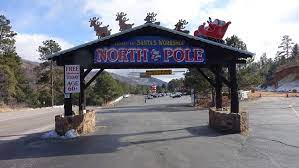 When: November 1st – December 24th. Park reservations are required.
Where: 5050 Pikes Peak Hwy Cascade, CO 80809
What: Visit Santa at his home in the North Pole. Enjoy the world's highest amusement park located in the mountains of Cascade, Colorado. You can meet Santa, enjoy Christmas-themed rides, and even feed the reindeer. Immerse you and your family in holiday cheer at Santa's workshop.
Join The Colorado Springs Community This Holiday Season
As a veteran-owned small business, we find immense joy in the ability to help others enjoy the community of Colorado Springs. We are proud to be able to serve our community by providing programs such as Pikes Peak Heroes, sponsoring community outreach initiatives, and sharing fun community events and activities with you. The Reichert Mortgage Team is your resource for all things community. If you are looking for the perfect mortgage for your home or have any questions about the events listed above, contact us today! We are always here to help and promote a spirit of community.