As an experienced mortgage broker in Colorado Springs, we understand how much of a difference it can make to lower your monthly mortgage payment. If you are a homeowner in Colorado Springs with a FHA loan that is current, then you may be eligible for the FHA Streamline Refinance Program. Under this program, homeowners are able to skip over the timely appraisal and underwriting processes required for traditional refinance options.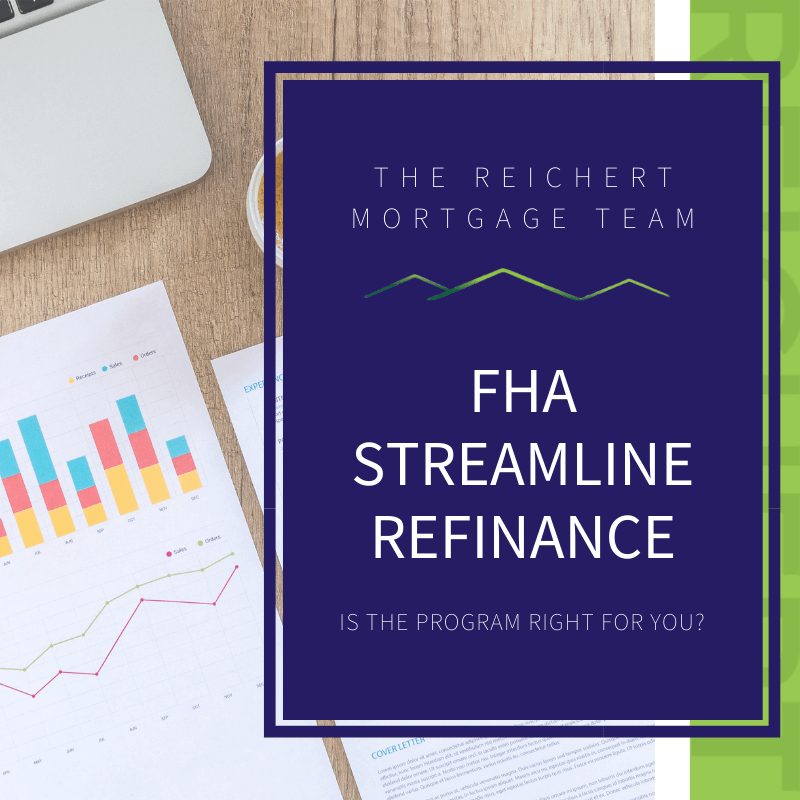 What Is FHA Streamline Refinance?
The Federal Housing Administration (FHA) created the FHA Streamline Refinance Program to help borrowers lower their monthly mortgage payments or change their term by lowering their interest rate. FHA streamline refinancing allows homeowners with or without equity in the home to skip appraisals and hefty documentation since you have already approved your creditworthiness to the FHA with your positive mortgage payment history.
FHA Streamline Refinance Guidelines & Requirements 2020
Interest rates for FHA loans are remarkably low, designed to meet the financial needs that the financial climate hit during 2020. The FHA streamline refinances program allows for homeowners with proven creditworthiness to quickly refinance their home without the hassle of an appraisal or certain underwriting requirements such as income or employment documentation. The current guidelines are designed to help homeowners lower their monthly payment with ease:
The mortgage must be FHA insured
The mortgage must be at least six months old
The mortgage needs to be current, or not-delinquent
Every aspect of the refinance must result in a net tangible benefit
No more than $500 cash may be taken
Pros and Cons of FHA Streamline Refinance
As with all refinance programs, it is important to analyze your specific situation both under your current situation and future goals. For homeowners who meet the requirement listed above and want to alter the term of their FHA loan in order to lower their monthly payments or lowering their interest rate, then the advantages of an FHA streamline refinance may outweigh the cons.
Advantages of FHA Streamline Refinance
An appraisal may not be required since the FHA loan allows you to use this program regardless of equity. 
You may qualify for the program even if you owe more on the home than it is worth since lower monthly payments are easier to make on-time.
The FHA streamline refinance program requires less documentation than a traditional refinances option. If you have an existing FHA loan that is current, the FHA knows your payment history, so documentation about employment and income may not be necessary.
Low refinance rates and lower MIP rated if you got an FHA loan between 2010 and 2015
Disadvantages of FHA Streamline Refinance
You may not take out cash in excess of $500, so if you are looking to refinance your mortgage in order to improve your home, then this may not be the best option.
Depending on the amount of equity you have during closing, the FHA streamline terms may be around for the life of the loan.
Do I Qualify For A FHA Streamline Refinance?
If your current home is backed by the FHA, you have had the loan for at least six months, and you have a current loan with perfect payments for at least the past three months, then you likely qualify for the FHA streamline refinance program. Connect with your local mortgage professional to ensure the prospect of an FHA streamline refinance will have a net tangible benefit, making sure the refinance lowers your combined interest rate and insurance rate by 0.50%.
FHA Loan Experts | The Reichert Mortgage Team
At The Reichert Mortgage Team, we are proud to help our neighbors throughout Colorado Springs, Falcon, Monument, and the surrounding areas secure the perfect refinance program. FHA streamline refinance is the easiest way to lower your monthly payments, and now is the perfect time to connect with us to see if this refinance program is right for your unique needs. Our mortgage specialists will always take the time to fully understand what you are looking for and will transparently explain how utilizing the FHA streamline refinance program will benefit you.