Colorado Springs consists of a community that is proud to support those who serve our military. As a veteran owned and operated mortgage lending company, we are proud to call the Pikes Peak region home. Colorado Springs is home to four military bases, so it is packed with fellow active duty and retired military members who can relate to what you're going through. As a military owned and operated mortgage company, we fully understand the intricate logistical details involved with PCSing.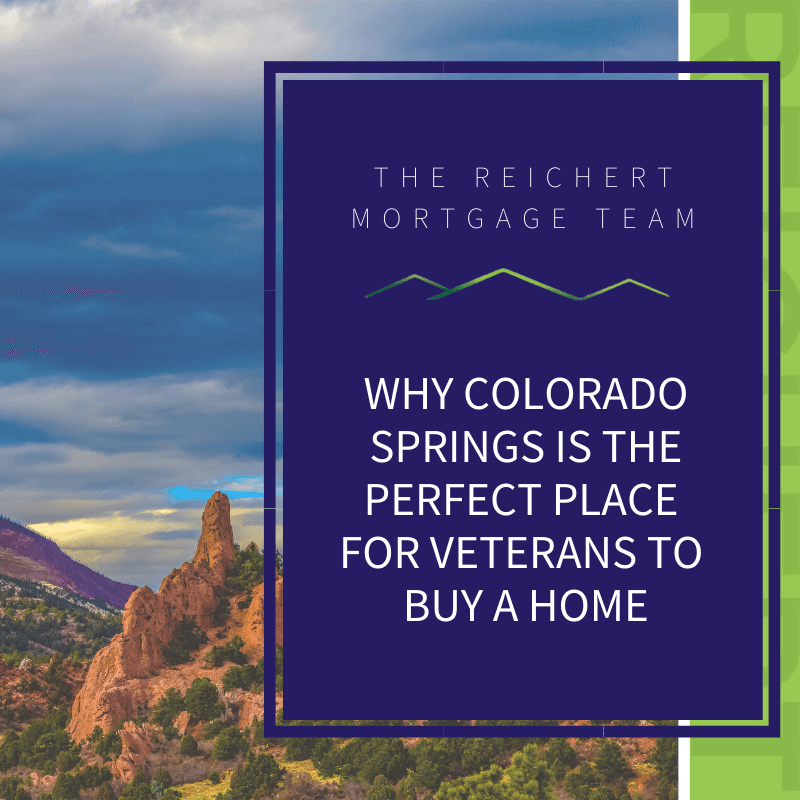 A combination of veteran services, economic factors and livability all contribute to the ranking, making Colorado Springs a remarkable place for veterans to call home. As a mortgage broker, we often have many military personnel come to us when PSCing or retiring in this beautiful state. That being said, we have many resources and guides to living in Colorado Springs, and why it is an ideal place for veterans to purchase a house.
Livability
The juxtaposition of natural beauty and urban opportunity makes Colorado Springs a remarkable place to call home. The city is growing rapidly due to important economic indicators, recreational opportunities, and an expanding entertainment scene. The city is booming with opportunity all while maintaining a respect for its natural wonders and history.
A sunny, dry, and moderate climate makes Colorado Springs the perfect place for people to live, especially veterans who are looking to avoid harsh climates. Recreational activities, historical experiences, medical resources, career opportunities, and more are readily available in Colorado Springs. The city offers something for everyone: Garden of the Gods, the Olympic Training Center, Space Foundation Discovery Center, and more. The backdrop of the Rocky Mountains makes for an incredible view each day and brings the reminder that a quick trip to the mountains for adventure or relaxation is just a short drive away.
Community
There are more than 10,000 service members and 53,000 veterans currently living in the Pikes Peak region which is home to four major military bases: Fort Carson, Peterson Air Force Base, Air Force Academy, and Schriever Air Force Base. With so many members of the military living in Colorado Springs, there are also a great deal of civilians who are honored and proud to support their military neighbors. Colorado Springs draws a crowd of hard working, determined professionals that make up a respectable community.
Colorado Springs is home to various resources from veterans ranging from multiple Veterans Affairs facilities all within close proximity to counseling and career guidance services led by people who truly seek to understand the specific needs of each veteran they work with.
Mortgage Benefits
Colorado Springs was not only dubbed the No. 1 Best Large City for Vets to Live in 2019, but it also was ranked as the No. 1 most desirable place to live in 2018 according to a survey conducted by U.S. News & World Report. These accolades reflect the demand for additional housing and increased value for homes which is great for existing home buyers, but adds to the level of competition for new home buyers in Colorado Springs. Fortunately, there are many mortgage benefits and resources available for active duty military, veterans, and their families in order to ease the home buying process.
VA Home Loans in Colorado Springs
Veterans have specific mortgage benefits such as VA Home Loans and access to programs like Pikes Peak Heroes. VA Home Loans were established in order to make home ownership significantly more accessible to members of the community through lower interest rates, $0 down, lower credit score acceptance, and more. Pikes Peak Heroes is a national program designed to provide financial home purchasing assistance to a variety of heroes, including veterans. The Reichert Mortgage Team is proud to have founded Pikes Peak Heroes, and our team is trained with expansive knowledge about how help veterans receive these benefits.
Talk to an Expert, Talk to a Veteran | The Reichert Mortgage Team
As a veteran owned mortgage company in Colorado Springs, it is an honor and privilege to serve fellow veterans. The Reichert Mortgage Team is here to first sit down and have a thorough discussion about your needs and desires as a home owner in order to customize an opportunity that will ultimately suit your individual needs. Contact us today to schedule a consultation. We are grateful for the opportunity to help veterans become home owners in Colorado Springs.