If you're ready to start celebrating the freedom that this great country provides right in your own neighborhood, then the 14th annual Falcon Freedom Days are a great way to do that! A full day full of celebrations including a 5k, parade, live music, and fireworks on Saturday, June 29th is the perfect way to begin Independence Day celebrations while supporting an incredible cause: the Ronald McDonald House Charities.
As a veteran, there is nothing I appreciate more than seeing my fellow neighbors celebrate the freedom that many generations of hard working men and women fought for. Being able to continue to serve my community with The Reichert Mortgage Team through events like Falcon Freedom Days 2019 while supporting the Ronald McDonald House Charities is truly an honor.
I am partnering with Victoria Goode who is with Keller Williams Partners in order to provide gift card giveaways from local businesses and games for kids at our booth. Swing by our booth between the festivities! We will be at Falcon Freedom Days in Peyton from 5 pm until the fireworks begin and would love to answer any questions you may have or just to say thank you for supporting RMHC.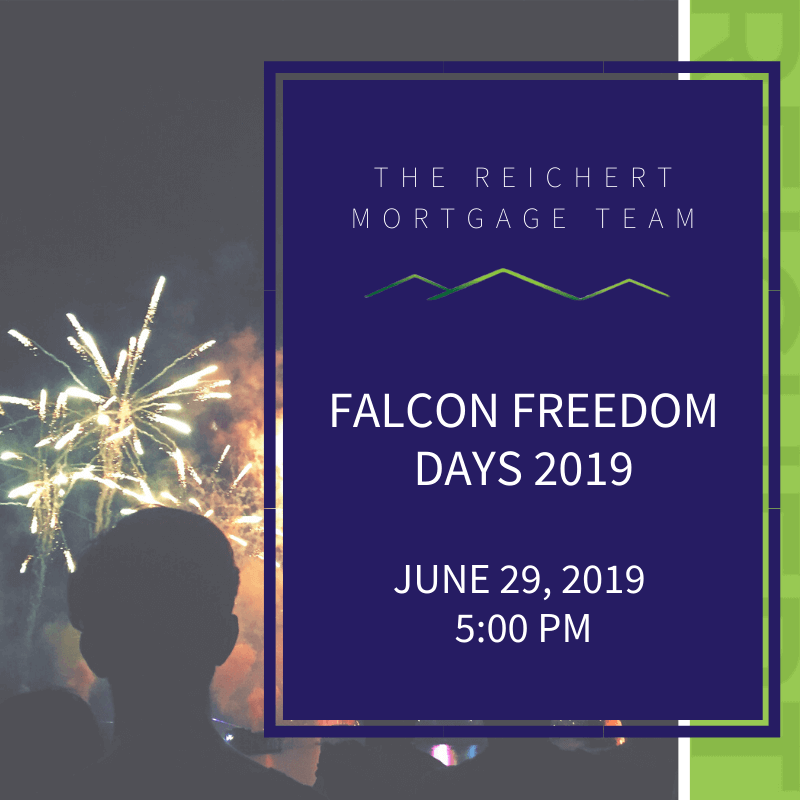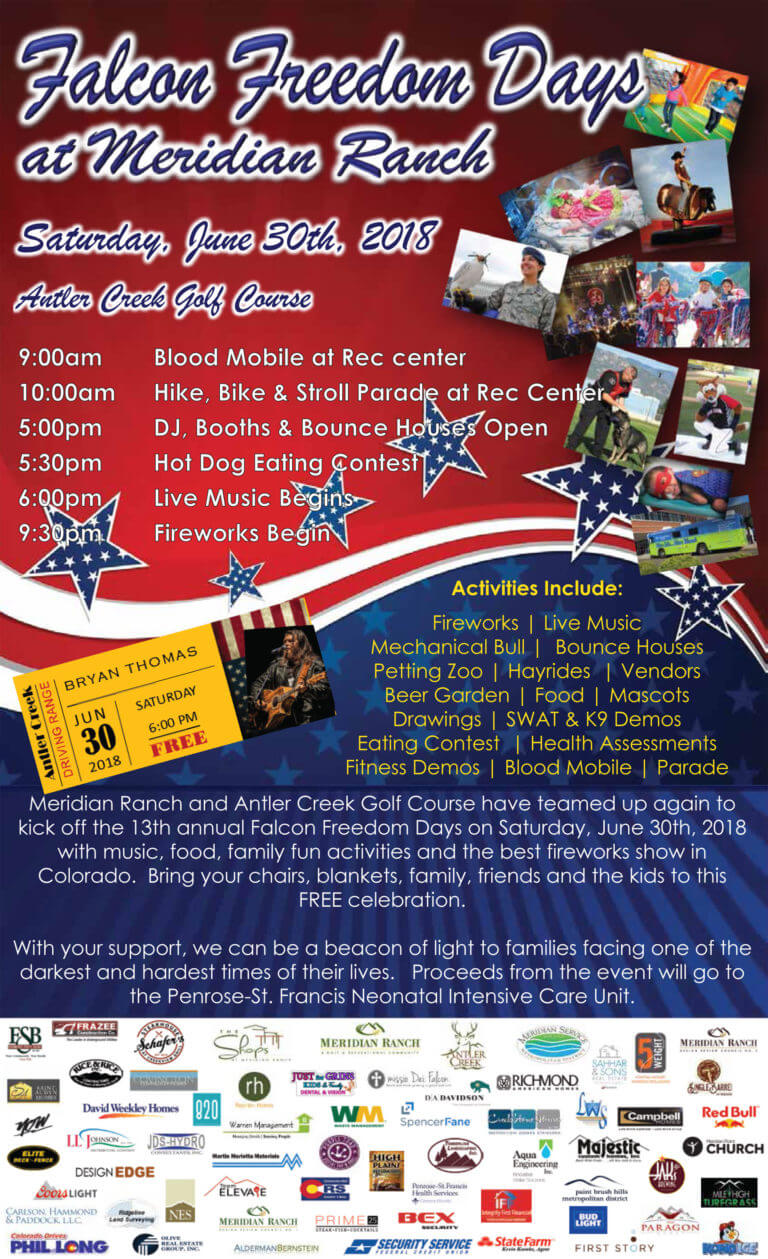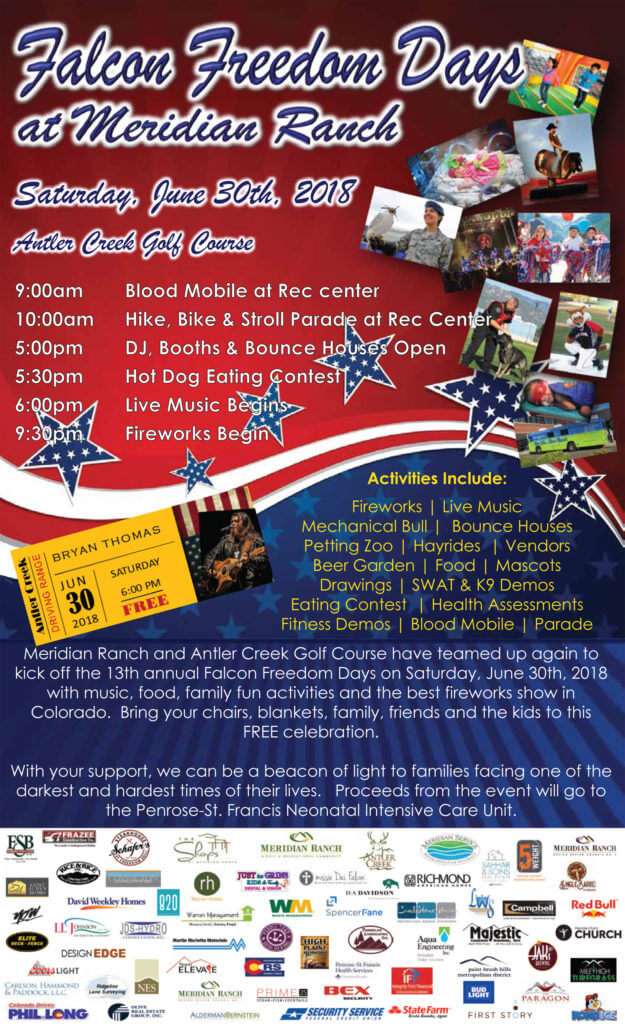 Quick Details
Date: Saturday, June 29, 2019
Time: Activities run from 8:30 am until fireworks begin at 9:30 pm
Location: Antler Creek Golf Course
9650 Antler Creek Dr.
Peyton, Colorado
80831
Activities Schedule
8:30 am – Red, White & Blueberry 5k Run
Sign up for the Red, White & Blueberry 5k Run/Walk before June 22nd to get a free t-shirt! Simply call the rec center at (719) 495-7119 to register for the run.
9:00 am – Blood Mobile at Rec Center
The Blood Mobile will be ready to take donations at the Rec Center! To sign up in advance, please call the rec center at (719) 495-7119
10:00 am – Hike, Bike & Stroll Parade
Join the incredible community of Falcon, Peyton, and Colorado Springs during our hike, bike, and stroll parade. Pets are welcome at this event!
5:00 pm – DJ, Vendor and Sponsor Booths, and Bounce Houses Open
Enjoy activities for the whole family including bounce houses, a petting zoo, beer garden, mascots, K-9 demos, games, and more from a variety of great sponsors and vendors.
6:00 pm – Live Music
Get your groove on with live music from Broseph! A band made up of 5 Nashville-based best friends whose music is influenced by country, rock, pop, punk, and more!
9:30 pm – Fireworks Begin
Celebrate our country's independence in style with a spectacular fireworks display.
Support the Ronald McDonald House Charities
During the 14th annual Falcon Freedom Days event, proceeds from VIP parking, VIP seating, and bounce houses will all benefit the Ronald McDonald House Charities. RMHC strives to provide stability and resources for families everywhere by helping young children who are fighting serious illnesses. The charities focus on providing financial support and resources so that families may focus on providing the best care possible for their children. Read more about Ronald McDonald House Charities here.
Contact The Reichert Mortgage Team For More Local Events
Whether it's Holiday Activities throughout Falcon, or events like Freedom Falcon Days, we always want to provide our neighbors throughout El Paso County with local events here at The Reichert Mortgage Team.
Check out the Falcon Freedom Days event on Facebook or contact us today to learn more about the activities and ways to participate!