Looking for an amazing way to support the Colorado Springs community? Join us on Saturday, May 4th, 2019 for the second annual Homes for Heroes Community Cares K-9 Event! This is an incredible family-friendly, service-centered event that takes the time to honor and support the heroes in our community.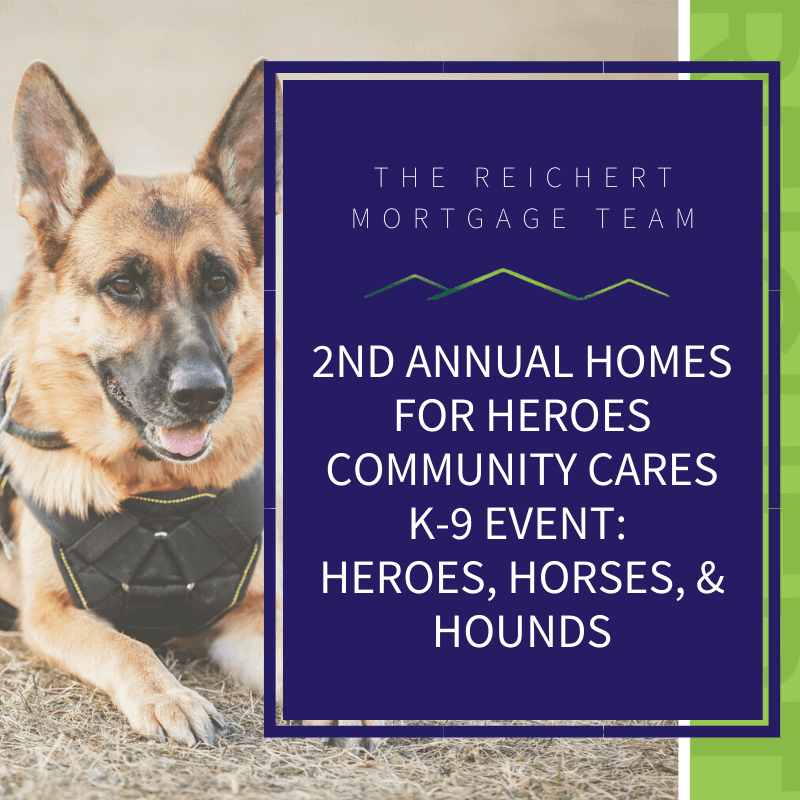 Thanks to our wonderful local sponsors and neighbors in attendance in 2018, the event was able to raise $23,000 for our K-9 officers at last year's event. As a veteran myself, there is nothing more fulfilling than serving my country, and I want to say how much I appreciate the generosity for such a worth-while cause!
This year, along with supporting our K-9 officers, the proceeds will be used to support Equine Deputies as well! With greater fundraising goals comes even bigger activities suited for every age, this is a local Colorado Springs event that you don't want to miss!
Quick Details:
Date: Saturday, May 4th, 2019
Time: 9 am – 2 pm, with 5k starting at 10 am
Location: Weidner Field, Home of Switchbacks FC
6303 Barnes Road, Colorado Springs, Colorado 80922
Thanks to incredible support from the community, there will be activities, shopping, and food for guests of all ages, including those with four paws! Below are more event details and how you can help contribute to this amazing cause.
Pet Friendly 5k
Join us at 10 am for our pet-friendly 5k! Run or walk alongside your furry companion and feel the energy from other incredible supporters. Registration fees from the pet-friendly 5k directly contribute to fundraising efforts and 5k registration includes entry, t-shirt, and a bandana for your leased pet! Here is a link to register for the Leashed K-9 5k, or simply text "Homes4hero" to 52182".
Celebrity Appearances
Denver Broncos cheerleaders, TV stars, and more will be at the Homes for Heroes Community Cares event for photo opportunities, autographs, and demonstrations. We are proud to have Judd Lormand of CBS' Seal Team join the event.
Soccer Contest: $10,000 Prize
Thanks to our incredible partner, The Colorado Springs Switchbacks, this year's Homes for Heroes Community Cares event is taking place on the team's home turf at Weidner Field. Participants have a shot at winning $10,000 during our soccer contest! Take a look at official rules and regulations for the soccer contest here.
Kid Zone, Auctions, Food, and More!
Live and silent auctions, demonstrations from local police departments and Ray Allen, a kid zone, and more are sure to provide fun for the entire family. Start bidding now on items such as a Pierce Brosnan signed guitar, an African Safari, Colorado Rockies tickets, and much more here! Live auctions will take place during the event on May 4th.
How to Help
Join us in raising $115,000 for our K-9 officers and Equine deputies. Our mission is to raise enough funds to care for all K-9 and Equine deputies for one entire year.
Want to get involved? Here's How:
Attend the event on May 4th
Every contribution helps, so spread the word and together we can care for our brave K-9 and Equine deputies.
Contact The Reichert Mortgage Team for More Opportunities
All proceeds from the 2nd Annual Homes for Heroes Community Cares event will benefit Colorado Springs Police Department, El Paso County Sheriffs Office, Fountain Police Department, and Woodland Park Police Department.
Check out the event on Facebook or contact us here today to learn more about attending, participating, or supporting this awesome local event!